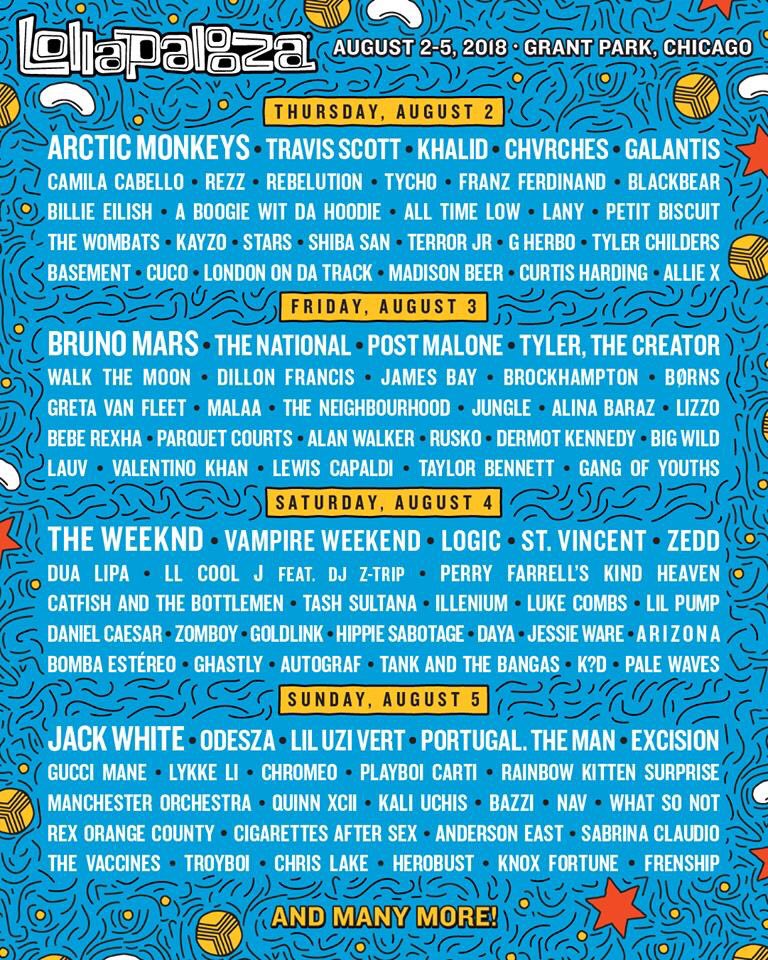 Lollapalooza finally sold out of its 4-day GA passes, and with that the daily lineup has been released. If you are new to Lollapalooza they always wait until the 4-day passes sell out to release single day tickets and the daily lineups. Anyways, you can see the daily lineups above. The Arctic Monkeys will headline Thursday, Bruno Mars on Friday, The Weeknd on Saturday and Jack White will close out the festival on Sunday.
You can also snag single day passes right now at Lollapalooza's ticket website. Here are the prices for Lollapalooza 2018:
1-Day GA: $120 + Taxes & Fees
1-Day GA Layaway Ticket: $38.38 down and a pament plan for the rest of the ticket
1-Day VIP: $650 + Taxes & Fees
1-Day VIP Layaway Ticket: $158.84 down and a payment plan for the rest of the ticket
1-Day Platinum: $2800 + Taxes
1-Day Platinum Layaway Ticket: $628.80 down and a payment plan for the rest of the ticket
Note that Friday and Saturday single day GA passes have already sold out. I will say potentially more than any other festival Lollapalooza has a ton of artists and enough to make any day fun. That said, I do think Friday and Saturday are a cut above the others. Friday obviously has the big names like Bruno Mars, The National and Tyler The Creator. It also has a great undercard with acts like Greta Van Fleet, Parquet Courts, and Big Wild. Similarly Saturday has Tank and the Bangas, Sir Sly, Charlotte Cardin, Tash Sultana and others on the lower lines. Get to Lolla early on both of those days. Regardless though any day of Lolla will be full of fun and good music so snag your single day tickets now before they're gone (it usually does sell out).
Other Recent Lollapalooza News