It's hard to believe but it is almost August and that means Osheaga! Today Osheaga has finally released their set times for the upcoming Montreal music festival. You can see the daily breakdown for each day of Osheaga below. Hopefully your dreams aren't crushed by days full of conflicts - here are the worst ones we see:
Run The Jewels vs. Litttle Dragon: Both are festival favorites and square off with 100% overlapping times on Friday evening. I personally lean towards RTJ, but neither is a bad option.


Phantogram vs. Whitney: Surprised to see Phantogram playing so early in the day (3:25 on Friday), typically they are playing at sunset or beyond. Both bands are great live; I personally prefer Whitney and doubt their stage will be that crowded so you can get a good spot. Phantogram is definitely the biggest artist playing at this time so I would expect a decent crowd.


Liam Gallagher vs. Danny Brown: A weird conflict, and one maybe most people don't have, but I really want to see both. I'm yet to see Liam on his new solo tour but the prospect of some Oasis songs is too much to resist.


Father John Misty vs. Major Lazer: Tough matchup for some I'm sure. All I will say is Father John Misty is amazing live and one of the best 2 or 3 male vocalists I've ever heard


Grace Mitchell vs. Barns Courtney: A lot of people may be unaware of either artists but I assure you both are on the rise. I give the slight edge to Barns Courtney: he is going to be a star. This will be the last time he is the first to play at a stage at Osheaga.


The Shins vs. Sampha: This conflict also exists at Lollapalooza, which is quite odd. Absolutely brutal, and probably the hardest of the weekend for me. I am always going to go see James Mercer and The Shins, but man I am going to be sad about missing Sampha.


Milky Chance vs. Belle and Sebastian: You have to go see Belle and Sebastian just because they are the rarer show, but it's too bad these two conflict when they have such similar fan bases.
Osheaga this year is absolutely brutal with conflicts. Those are just the worst ones I saw when browsing the schedule, but there are tons more. Osheaga is sure to lead to many tough decisions for many attendees this year.
Osheaga Sunday Schedule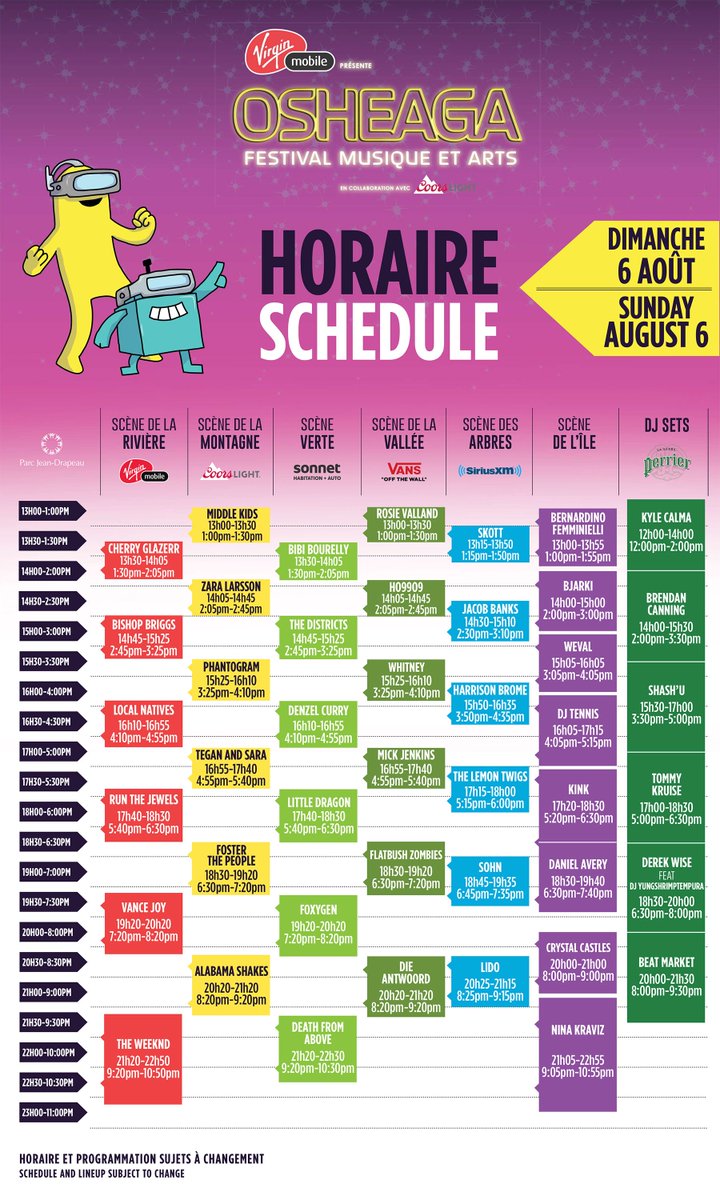 Osheaga Saturday Schedule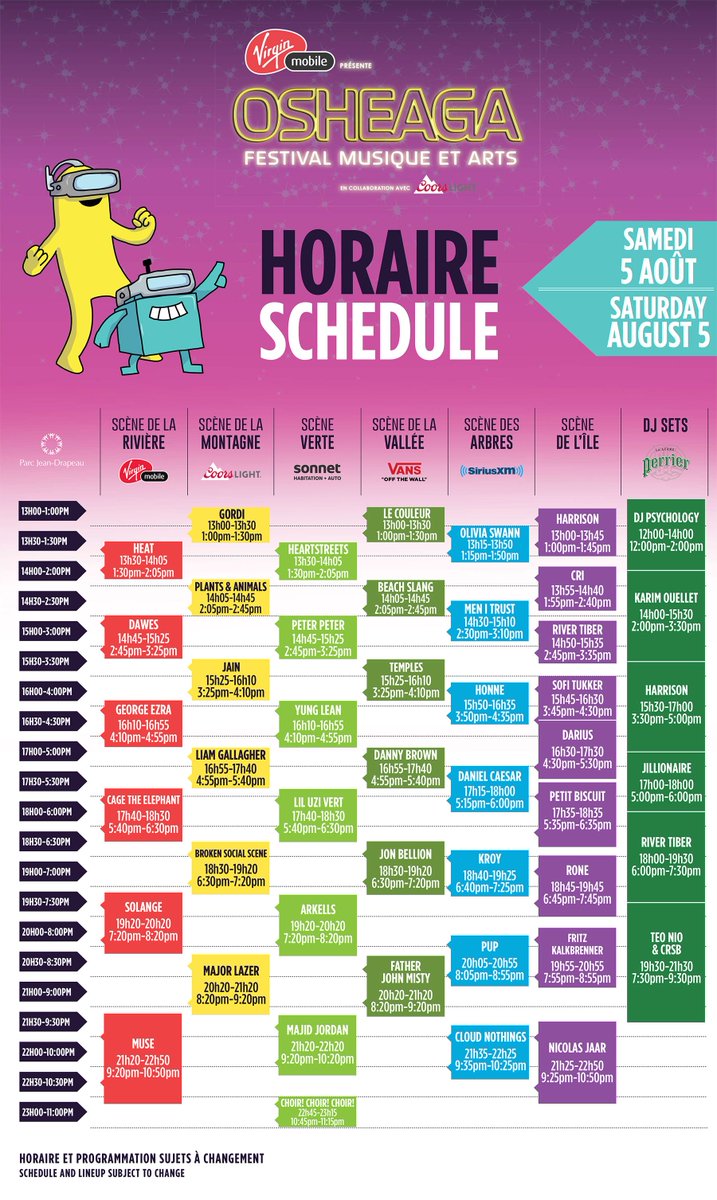 Osheaga Sunday Schedule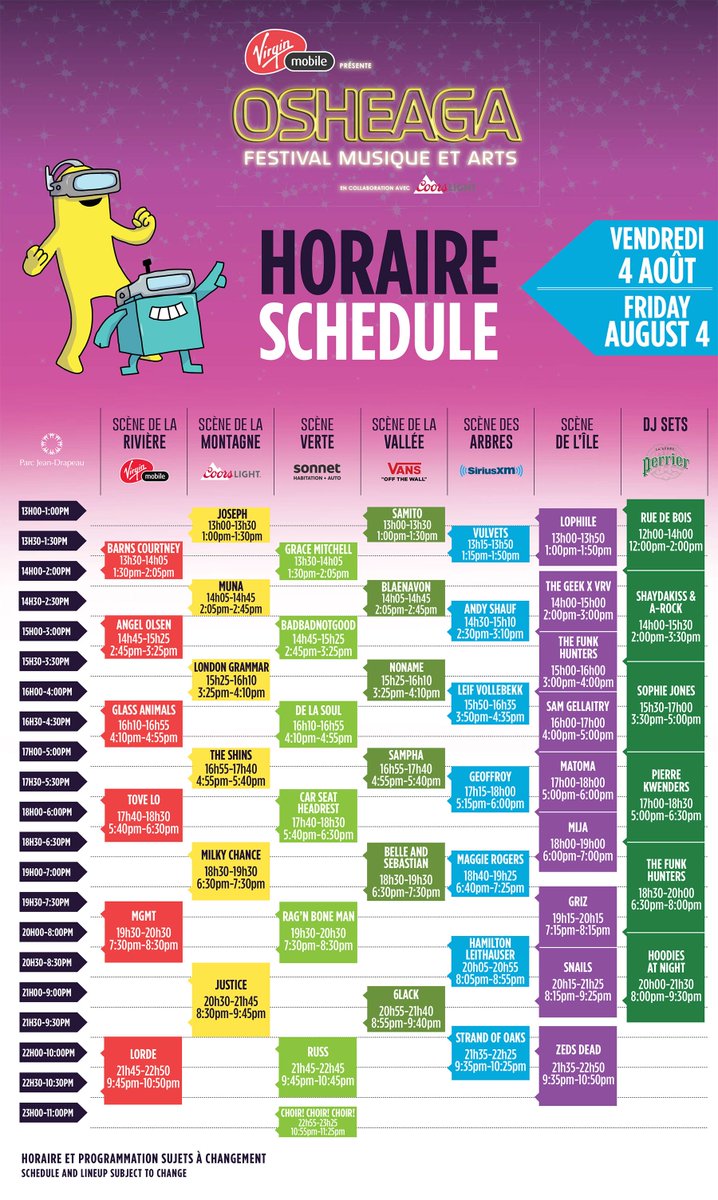 Other Recent Osheaga Festival News