Osheaga Festival Navigation
Average Price of Osheaga Festival Hotels
Osheaga Festival Hotels
Looking for a hotel for Osheaga Festival? Check out our Osheaga Festival hotel page. It's a great resource and includes the following:
Average price of Osheaga Festival by day, allowing you to see if prices are trending up or down

Average price of hotels by star rating

This same type of price tracking for each individual hotel in our database

Compare hotel prices to years past: see if the hotel your eyeing dropped prices last year

Book directly through our partners at Hotels.com, Expedia, Travelocity or Priceline

Hotel tracking: tell us how much you want to pay, the hotels you're interested in, and we'll automatically email you if they drop below that price
Visit Our Osheaga Festival Hotel Page
Looking for information on Osheaga Festival? Check out our guides page great info like:
Where you should book a hotel for Osheaga Festival

How much you can expect Osheaga Festival to cost you

How to best get to Osheaga Festival on the day of the event

All the important dates with Osheaga Festival

A whole lot more!
Check out our Osheaga Festival News & Rumors page to get all the latest news, rumors, theories and announcements related to Osheaga Festival. You can see the latest news to the right, but check out the page for all of the latest news we have on Osheaga Festival. Remember you can get our monthly Osheaga Festival Newsletter automatically emailed you with all this type of news and info by registering with Event Track!
Recent Osheaga Festival Headlines
Posted: July 14, 2017, 5:05 p.m.
It's hard to believe but it is almost August and that means Osheaga! Today Osheaga has finally released their set times for the upcoming Montreal music festival. You can see the daily breakdown for each day of Osheaga below. Hopefully your dreams aren't crushed by days full of conflicts - here ar...
Posted: April 24, 2017, 9:27 a.m.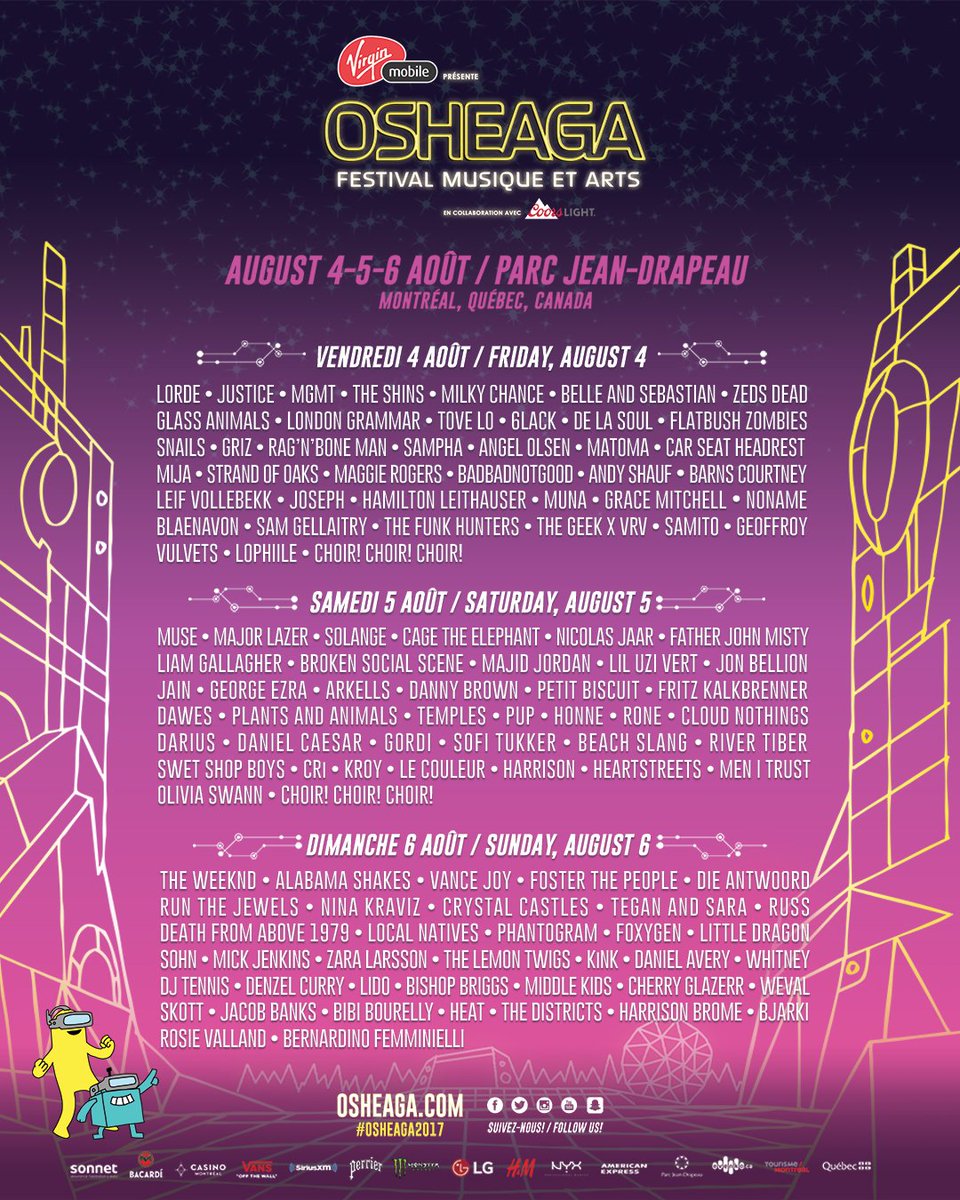 Today Osheaga released their daily lineups for the upcoming Osheaga 2017. You can see the full lineup breakdown on the poster above for this upcoming Osheaga. The lineup is fairly strong each day but I would personally say Sunday is the weak day of the festival. Friday is an awesome Osheaga day...
Osheaga Festival's official dates have it beginning on March 6, 2017 and ending on March 6, 2017. In general when we track hotel prices we add a day before the event start and a day after the event. For some events, like marathons we give an additional day before the event. For Osheaga Festival we track hotel prices for Aug. 3, 2017 - Aug. 7, 2017.
Osheaga Festival Ticket Cost: $320 for General Admission, $585 for Gold Passes, $1150 for Platinum Passes
Osheaga Festival Ticket Info: Osheaga Music Festival offers three levels of passes to festivalgoers: General Admission ($320), Gold ($585) and super fancy Platinum ($1150)
Osheaga Festival Official Website: https://www.osheaga.com/en/passes