ARTICLE SUMMARY
Coachella features tons of events outside of the music festival itself
Most of the parties are day/pool parties at various resorts throughout the area (most though are in Palm Springs)
Neon Carnival is the probably the most famous and exclusive Coachella party; generally you need to know someone to get in
Some parties are free, some require you to purchase tickets, and some require you to know someone. We go over all the parties for Coachella 2018.
Note if you have a Coachella party you are looking to promote and want it added to our list (it's free) contact us here.
Ah Coachella! It truly is the happiest time of the year and for many it's a time for the biggest parties. While you may think of Coachella as a music festival many know of it as one, giant party. While most of the action is during Coachella Weekend One, there are parties throughout the entire two week span of Coachella. How do you get into these parties? Well that depends. Some parties are free with an RSVP, some cost you money for a ticket and some you need to know someone. From the giant parties like Neon Carnival to the small, local pool parties this is your ultimate guide to Coachella 2018 parties. Below is a list of every party we know going on during the two weeks of Coachella, how much they cost, and where they take place.
Coachella Party #1 - Neon Carnival 2018
When: Saturday April 14th, 10:00 p.m. – 4:00 a.m.
Where: Thermal Airport (Located at 56-850 Higgins Dr, Thermal, CA 92274)
Cost: $0 (Need to know someone to get in)
Probably the most famous of all Coachella parties. It isn't official sponsored by Coachella, but Neon Carnival occurs annually on Saturday night of the first weekend of Coachella and is pretty synonymous with the festival at this point. This is the swanky celebrity party where you have a shot of seeing Leonardo DiCaprio as well as every aspiring actor or actress from the Los Angeles area. So what is Coachella's Neon Carnival? Well, it's like what it sounds like: it's literally a carnival at night. It has a Ferris wheel, carnival games, and everything else you would expect at a carnival....and of course plenty of booze and partying.
You need to know someone to get a wristband, so getting access to Neon Carnival isn't going to be possible for everyone. In fact, very few people who want to attend Neon Carnival each year get to attend. If you know someone in the LA Club scene this is definitely the time to cash in the favors. If you do go, here are a few tips and thoughts on what you will experience:
Traffic is abysmal. Thermal airport is not designed for a huge crowd to be headed there on its one lane highway. The traffic is better driving to Coachella than to Neon Carnival. Be sure to account for this when planning what time to leave Coachella.
It's mainly a party to be seen amongst the LA crowd
Generally it will be playing Top 40 hits and generic EDM - definitely not any sort of hip music scene going on at Neon Carnival
You probably will see celebrities
Roughly 3,000 people attend Neon Carnival annually
You need to leave Coachella early to attend unless you want to get stuck in the hoard of traffic
It's the most exclusive of all Coachella parties
Coachella Party #2 - Day Club
When: Occurs everyday of Coachella (April 13th-15th for Weekend One, April 20th-22nd Weekend Two)
Where: Hilton Palm Springs (400 E Tahquitz Canyon Way, Palm Springs, CA 92262)
Cost: $50 for a weekend pass good for one of the weekends or $20 for an individual day
Website: http://www.dayclub.ps/
The Hilton Palm Springs is back with its annual pool party known as Day Club. You can see the schedule above, and as normal it's pretty loaded. Generally this party gets some pretty big DJs and this year continues the tradition, especially during Weekend Two with Odesza and Illenium. You can snag tickets at their official website above and they are fairly reasonable at $20 a day or $50 for the weekend. Typically this party goes until about 6 or 7 so you will miss the majority of Coachella if you attend, but it is a really good time. If you've ever been to a Las Vegas pool party this is about as close as Coachella gets to that.
Coachella 2018 Party #3 - Desert Gold @ The Ace Hotel
When: Both weekends of Coachella 2018
Where: The Ace Hotel Palm Springs (701 E Palm Canyon Dr, Palm Springs, CA 92264)
Who: Anyone
Cost: Free
You can click here to see the official website for the party. This is one of the longest running pool parties during Coachella, with a solid lineup and a fun crowd. Note that this is open to the public but you need to arrive early, or if you are an Ace guest you can just show up. If you are looking for a fun pool party one day either weekend of Coachella 2018 give Desert Gold a look.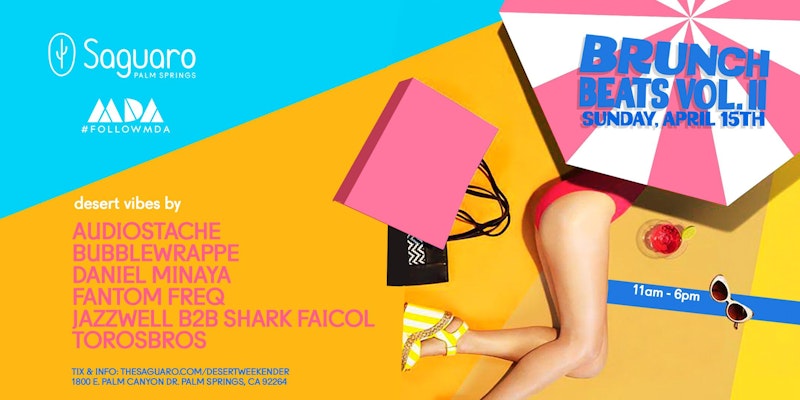 When: April 15th, 2018 (11 am to 6 pm)
Where: The Saguaro (1800 E. Palm Canyon Drive, Palm Springs, CA 92264)
Who: Anyone
Cost: Free (Need to RSVP)
The Saguaro is one of Palm Springs most fun hotels. Even when Coachella isn't going on the Saguaro has an awesome pool party and a really great vibe. This year they've added a new event for Coachella 2018 called Beats & Brunch, which will take place Sunday of Coachella 2018 (Weekend One only). You can see the lineup above and if you are interested here is the Event Brite link. If you don't mind getting to Coachella a bit late on Sunday this is sure to be a good time at the Saguaro. Enjoy some driknks, sun and pool time before heading off to the Polo Fields to close out Coachella.
That's all the Coachella parties that have released details as of now but stay tuned for more updates. Tons of parties start coming out within a few weeks of Coachella so we are sure to have more info on Coachella 2018 parties soon/
Other Recent Coachella News