Article Summary
We go over all the tips you should know for your first Hangout
Be sure to bring sunscreen, some cash, sunglasses, chapstick and a camelbak
Biking is a great option to get to the festival; if you can't bike take the shuttle to Hangout. Do NOT drive.
Be sure to hydrate and pace yourself
Don't leave at checkout on Monday morning, the traffic is abysmal
Heading to Hangout Music Festival for the first time? First, I suggest you read our Hangout Music Festival 101 page, which goes over all the basic information you need to know about Hangout Music Festival. You can find that article here. This article isn't going to go over the same, generic information about Hangout Music Festival. This is our insider tips page, things I wish I had known before going to Hangout Music Festival for the first time. Think of this as passing information/pro tips to the next generation of Hangout Music Festival first timers. I hope after reading this and our Hangout Music Festival 101 article you are absolutely, positively 100% ready to head off to Hangout Music Festival and have a blast.
Hangout Music Festival Tip #1 – Bike To the Festival
I really like biking to Hangout Music Festival. You can drive but the traffic is awful and the prices to park are bullshit. The shuttle is also a good option but it still doesn't give as much freedom as riding a bike. Riding a bike is fun, you get some good outside time, and you can come and go as you please. Hangout Music Festival provides plenty bike racks too, so all you need to bring is your bike lock and your good to go. FYI here is where there is typically Hangout bike parking: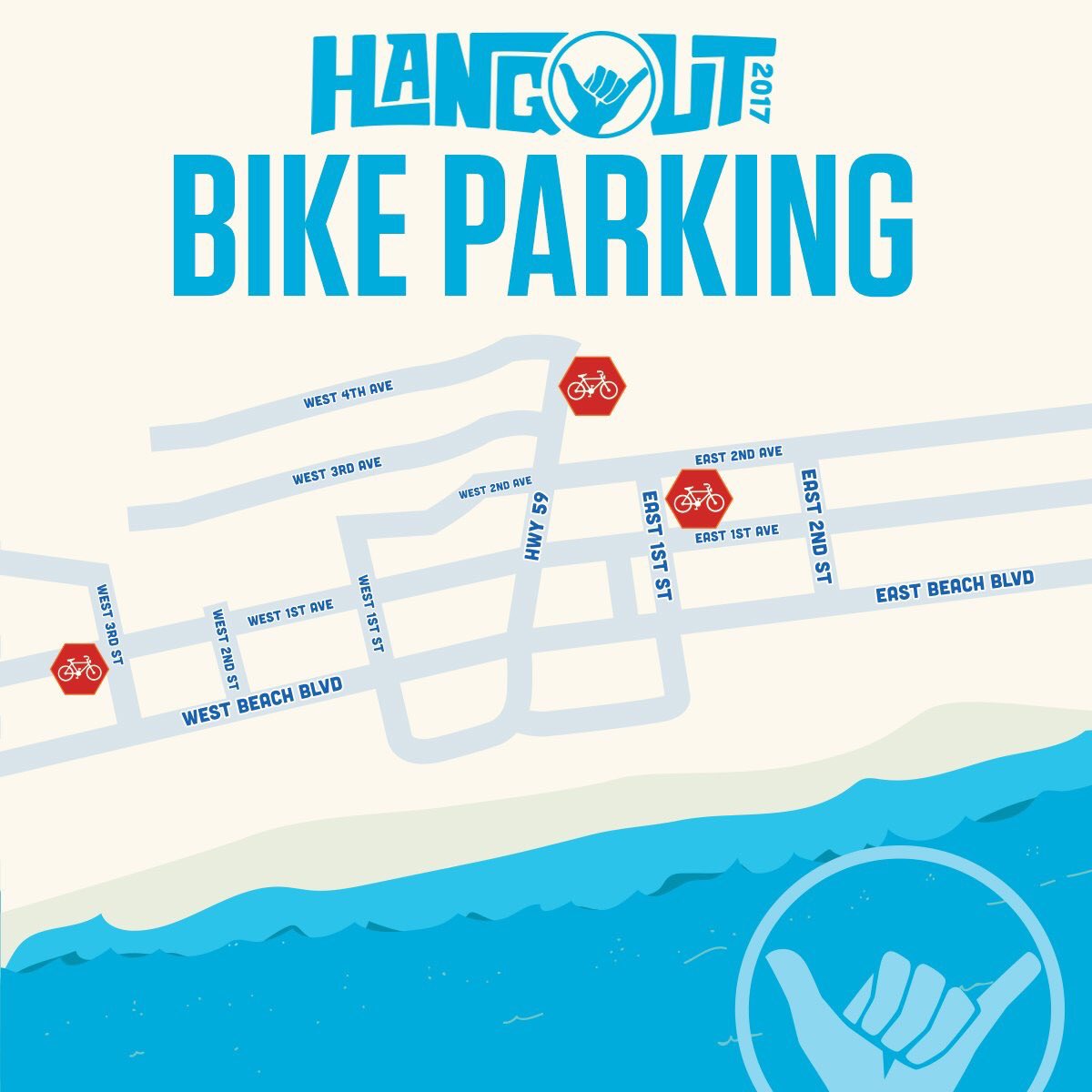 Hangout Music Festival Tip #2 – Don't Forget the Sunscreen
This should go without saying because the festival is on the beach, but you'd be surprised. Hangout is a long three day weekend on the beach. The fun of this weekend is going to be severely reduced if you become redder than a lobster, which is easy to do in the Gulf Shores sun. Do not forget sunscreen and remember to apply it liberally throughout the days. I assure you that you will hate your life if you don't bring any all weekend, and it's always cheaper to buy ahead so snag it here.
Hangout Music Festival Tip #3 – Cash is King
Obviously bring your credit card to Hangout Music Festival but be sure to bring some cash with you as well. Some of the booths only accept cash so be sure to have some on you. Plus sometimes its nice to just pay quickly with cash and get back to the action. Just be aware that ATMs inside Hangout Music Festival carry a whopping bullshit fee of 20% so get cash before you go!
Hangout Music Festival Tip #4 – Do NOT Forget Sunglasses
No one wants to look squinty in pictures. Even bigger pro tip is to be a hero and make sure it doesn't happen to anyone in your crew with the snazzy party pack! (I like these personally, cheap but get the job done). Hangout isn't Coachella - you don't need to bring your $400 Tom Ford's. Go with a cheap pair of sunglasses so if you lose them in your drunken debauchery everything will be good.
Hangout Music Festival Tip #5 – Wear Proper Attire
During the day everyone basically wears bathing suits, shorts, tees, tank tops and/or flip flops. For night time it can get into the 60s so you may want something long sleeved if you get cold easily.
Hangout Music Festival Tip #6 – Timestamp Texts and Expect Poor Service
There are a lot of people at Hangout Music Festival, enough that you are likely to have really crappy service. One thing I always advise in times like these is to timestamp your texts. Don't say "Hangout Bar", say "Meet at Hangout Bar – 9:30". Sometimes texts come through at later times and you don't want to confuse your friends.
Hangout Music Festival Tip #7 – Hydrate
It's a long weekend, so it's important to pace yourself and hydrate. It's easy to forget to drink enough water in Gulf Shores heat, but be sure to drink plenty of water. It's easy to get dehydrated out there so snag plenty of H2O. Like most music festivals Hangout has free water refill stations located throughout the festival, so be sure to take advantage of those.
Hangout Music Festival Tip #8 – Camelbaks
Make your hydration easier by just investing in a camelback. You will use it for any music festival you attend so think of it as an investment in the future, it's well worth it. It also makes Hangout better - you will spend less time refilling and more time at one of the stages having fun. Once I got one of these I will never go to a festival without one again.
Official Recommendation: Here
Hangout Music Festival Tip #9 – Get The App
The Hangout Music Festival App is pretty legit. It contains the map of the Hangout Festival grounds, show schedule, transportation info, and a lot of other useful stuff that you probably won't remember when you are wasted.
Hangout Music Festival Tip #10 – Get In Before Thursday Afternoon
There's only a couple of roads that go into Gulf Shores, AL so the traffic getting into Hangout can be abysmal. I highly suggest trying to get to Gulf Shores before noon on Thursday. This will let you beat a lot of traffic and start your weekend off right.
Hangout Music Festival Tip #11 – Don't Plan to Leave Monday Morning
Literally everyone leaves Hangout at 10 a.m. on Monday. Plan to enjoy the beach a bit later into the day to avoid all of the outgoing traffic. Unless you really need to go I would wait as late as possible. The alternative is to leave really early if you can manage it after three+ days of partying at Hangout.
Hangout Music Festival Tip #12 – Carabiner
Once you get to the sand you want to remove your flip flops. Snag a carabiner so you can tie your sandals to either your backpack or your camelbak.
Hangout Music Festival Tip #13 – Pace Yourself
It's a long three-day weekend in the heat: don't go too hard the first day and wipe yourself out for the weekend. Find time to find some shade, sit and enjoy the show. Be sure to find times to take it easy and make sure you make it for the whole weekend.
Hangout Music Festival Tip #14 – The Beachside Stage is Better
Obviously it depends on which acts you want to see but if you are indifferent to who is performing I find the Beachside Stage to be more enjoyable. It is usually less crowded and has more of a breeze off the ocean which really helps in the crowded, hot festival.
Hangout Music Festival Tip #15 – The Hangout Bar Is the Best Bar
Lots of the bars at Hangout aren't that great and do stuff like measure a shot out for your cocktail. The Hangout Bar, which is located by the Seaside stage, has legit bartenders who can have a heavier pour if you tip them well. If you are looking for a better cocktail go check out the Hangout Bar.
Summary
Got tips that I haven't included here? I'd love for you to let me know and I will add them here. I want this list to be all-inclusive to give Hangout Music Festival rookies the best possible list of survival tips. If you have stuff to add let me know at Shawn@EventTrk.com.