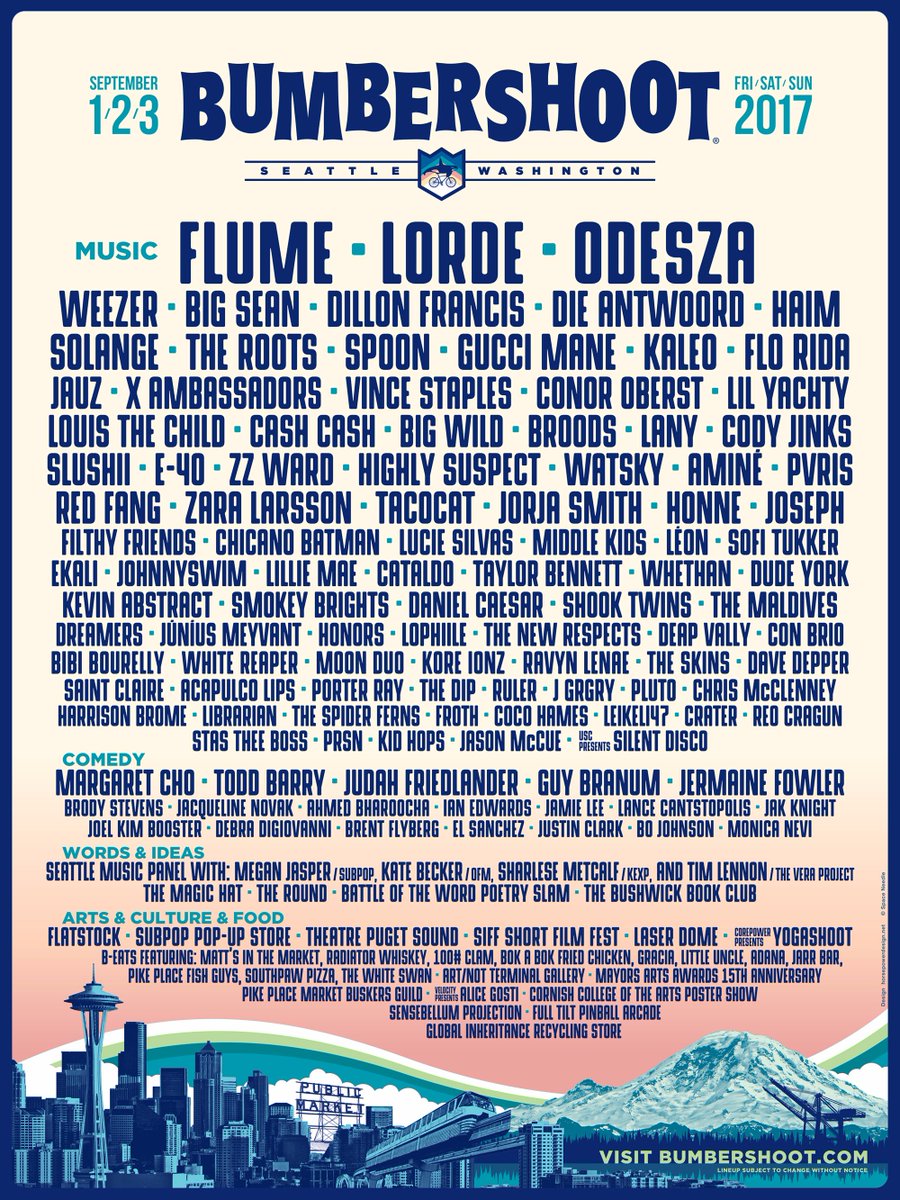 Bumbershoot today announced their 2017 lineup. The headliners will be Flume, Lorde and Odesza. Other notable artists for the festival include Big Sean, HAIM, Solange, and Dillon Francis. Passes for Bumbershoot will go on mass sale this Friday at 10 a.m. PST. Here is a breakdown of the Bumbershoot passes:
Bumbershoot General Admission: $235
Bumbershoot VIP: $425
Bumbershoot Emerald Pass: $725
You can purchase passes at the official Bumbershoot website located here. If you are trying to decide which pass is appropriate for you for Bumbershoot we have written a full article on the VIP and Emerald passes. You can see that article here.
As for the lineup this year I think as usual Bumbershoot is pretty solid for the price of the passes. Keep in mind that these are some of the cheaper passes for a mid-tier music festival, especially one with such a central location in a major city. For me the biggest surprise for Bumbershoot this year is it is so EDM heavy towards the top of the lineup with Flume, Odesza and Dillon Francis. It's interesting in a year where festivals like Outside Lands and Lollapalooza moved away from EDM that Bumbershoot has increased its presence. That said, Odesza is a good get with new music coming out soon and Dillon Francis is undeniably popular. Flume and Lorde are solid festival staples that are sure to bring in a big crowd.
Where I personally really like the Bumbershoot lineup is on the undercard. Weezer is billed too high, but that's fine. Looking past that, HAIM, Solange, Spoon, and Louis The Child are all awesome gets that aren't playing every single festival this year. Bumbershoot offers rnough on the undercard alone to keep me occupied for all three days. There are some sneaky good acts low on the Bumbershoot bill as well - check out Sofi Tukker and Tacocat if you haven't had the chance yet. Again, for the price Bumbershoot is solid like always, and I haven't even mentioned the fact that it also includes comedy and other forms of entertainment. It's a solid festival lineup, in a great location and a reasonable price. As I mentioned, tickets go on sale this Friday at 10 a.m. PST.
Curious what everyone thinks about Bumbershoot this year; feel free to either tweet at us @EventTrk or email me at Shawn@EventTrk.com. I'd love to hear your thoughts!
Other Recent Bumbershoot News