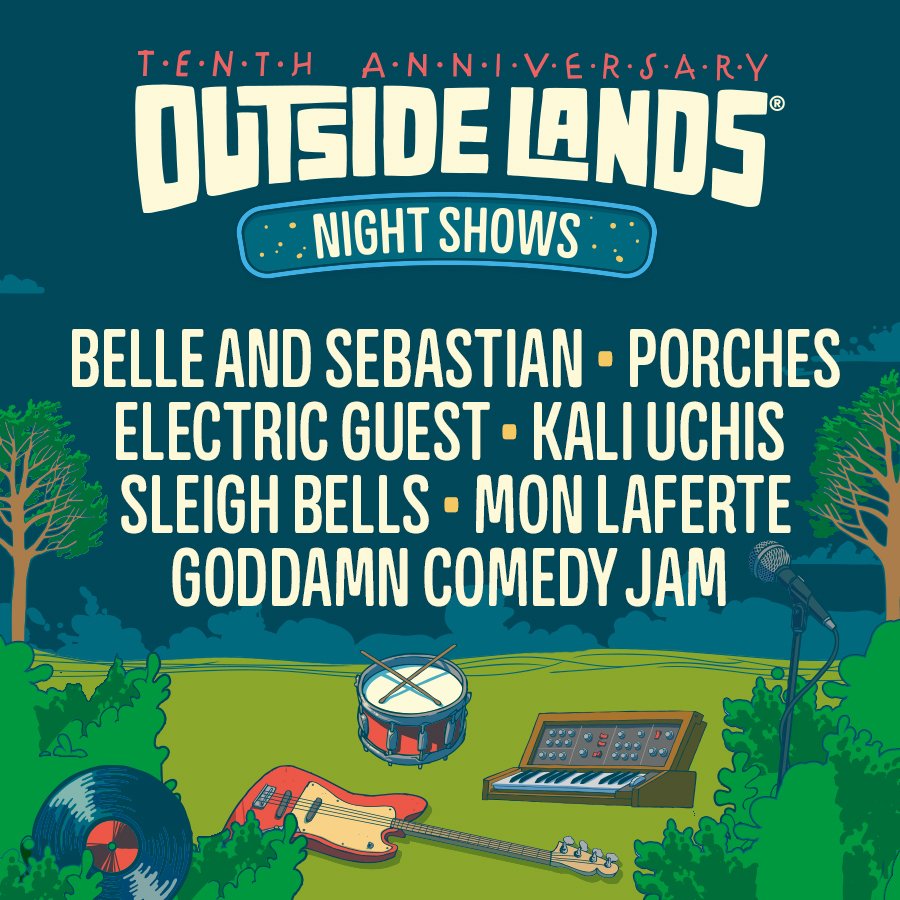 Outside Lands made a couple of big announcements today with the official OSL Night Shows and Barbary lineups. Let's begin with the Outside Lands night shows. The lineup this year will feature Belle and Sebastian (clearly the biggest of the shows), Porches, Electric Guest, Kali Uchis, Sleigh Bells, Mon Laferte, and Goddamn Comedy Jam. If you are unaware about the Outside Lands night shows these are shows that go on after Outside Lands ends, or on Outside Lands Eve! Due to city restrictions OSL has to end at 10 p.m. each night, which is far too early. Enter Outside Lands night shows. This gives you a chance to keep your party going by seeing some of the festival's artists performing at local venues. It's also a great way to solve a conflict if you can't see any of the artists during the festival (set times will be coming in about a month). If you have purchased Outside Lands tickets you should get a presale code sent to the email you purchased passes with. Here's the breakdown of the shows:
Nightlife Live w/ Electric Guest - California Academy of Sciences, 6:00 p.m. (doors), 8/10/17
Belle & Sebastian - The Independent, 8:00 p.m., 8/10/17
Kali Uchis - Rickshaw Stop, 9:00 p.m., 8/10/17
Porches - Rickshaw Stop, 10 p.m., 8/11/17
Sleigh Bells - The Independent, 10:00 p.m., 8/11/17
Mon Laferte - Mezzanine, 10:00 p.m., 8/12/17
Goddamn Comedy Jam + Special Guests - Rickshaw Stop, 10:00 p.m., 8/12/17
Generally these shows will sell out, and quickly - so don't wait too long if you are interested in going!
Outside Lands also released this year's Barbary lineup. This is a special tented area for comedy and music debauchery that is located not far from Choco Lands. The lineup is pretty great this year with Nick Kroll, Jeff Goldblum and the Mildred Snitzer Orchestra, and Lovett or Leave It (widely respected on both sides of the aisle). We recently saw Jeff Goldblum at Arroyo Seco Weekend and couldn't recommend it enough - don't miss that one. Also interestingly Outside Lands announced The Barbary would be expanding this year - "Due to its popularity The Barbary has expanded this year and the tent is now even bigger to accommodate the huge demand from comedy fans". This is welcomed news as it has gotten pretty cramped in there in year's past. The Barbary lineup above will be split up between the three days of Outside Lands. The detailed schedule will come with the release of set times, which should be coming in the next couple of weeks. You should absolutely check out the Barbary at some point when you don't have a music conflict.
Other Recent Outside Lands News