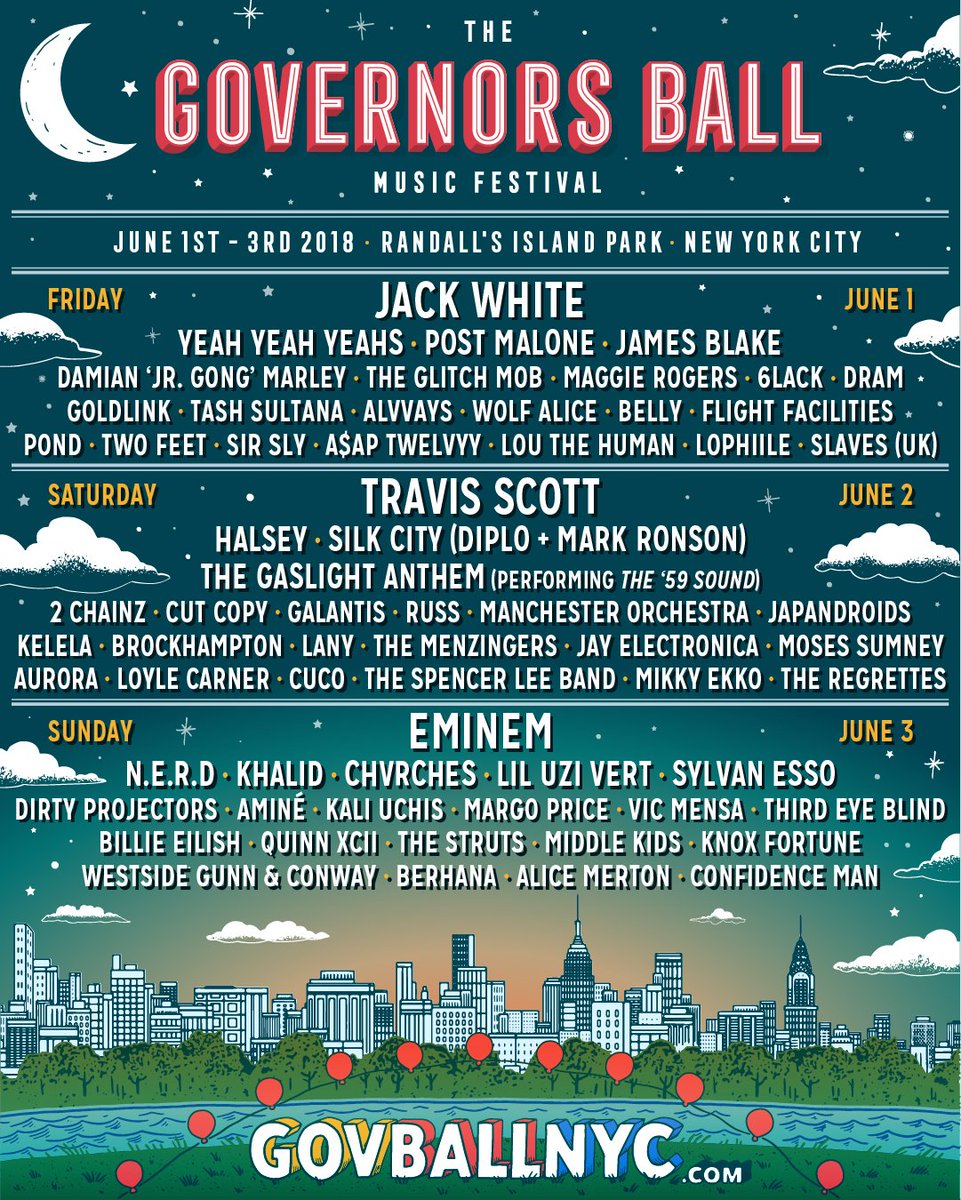 Governors Ball has released their daily lineups and single day tickets. If you can't commit (or afford) to go to all three days of Governors Ball you can now pick which day(s) you will attend. Here is what the prices look like for single day passes to Governors Ball 2018:
Single Day GA - $115 + $20 In Fees
Single Day VIP - $255 + $30 In Fees
Single Day VIP Plus - $700 + $40 In Fees
So first of all, as usual the fees are fairly absurd. Ultimately for a one day GA pass to Governors Ball you are paying $135, which is pretty pricey when you compare it to other festivals that offer single day tickets and usually have stronger lineups than Governors Ball. Anyways, let's take a look at the daily lineups.
Obviously a lot of this boils down to personal taste, but to me Friday is clearly the best day. Jack White, Yeah Yeah Yeahs, James Blake, and Post Malone is an extremely strong top billing, but be ready to make some tough choices. Generall Governors Ball always has two stages going so it wouldn't surprise me to have a lot of these acts going head to head. The Friday undercard is also the best in my opinion with acts like Alvvays, Wolf Alice, Sir Sly and Tash Sultana. If I were to do single day I would absolutely go on Friday - there is easily $135 worth of value in there. The other days look fairly weak to me, especially Sunday. There are some good acts there (Sylvan Esso, Lil Uzi,etc.) but man there is a big dropoff to the bottom of that billing.
If you are worried about Govenors Ball selling out I wouldn't - generally this festival is not getting a lot of buzz this year. Friday single day could sell out, but I would be fairly shocked if either Saturday or Sunday sell out before May. Generally Gov Ball sells out, but it's not until the week of the festival (and I am dubious of if this is a legit sell out or they give away tickets to radio stations and such). So if you are still debating Governors Ball, or perhaps waiting for the Panorama lineup I'd say you are fine to wait on Gov Ball 2018 tickets.
Other Recent Governors Ball News