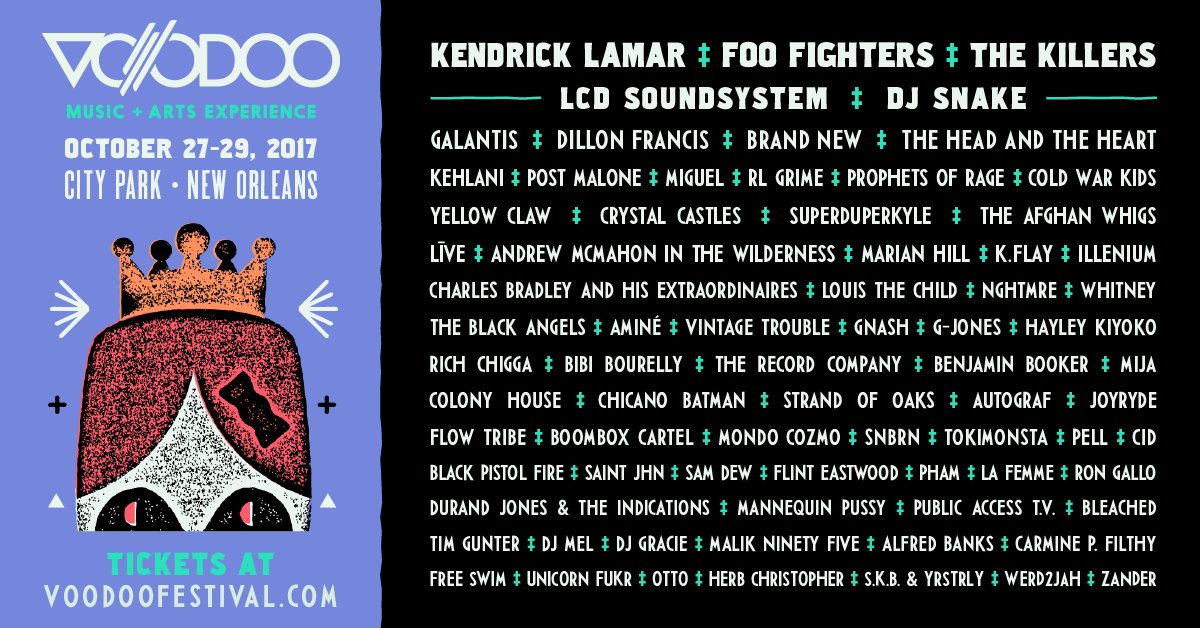 Voodoo Fest has announced their 2017 lineup and it boasts a pretty impressive set of headliners. Voodoo 2017 will be headlined by Kendrick Lamar, Foo Fighters, The Killers, LCD Soundsystem and DJ Snake - an impressive collection of headliners. E...
---
Governors Ball has wrapped up for this year and now it's time to get ready for Governors Ball 2018. If you are still reminiscing about Gov Ball 2017 you can see our full review here. If you are ready to move on to Gov Ball 2018 then let's get to i...
---
Governors Ball 2017 Top Ten Sets
Tool - Visually the best show I have ever seen


Barns Courtney - Holy shit the energy was amazing, if you can get to a festival early that he is playing (Lollapalooza) I really recommend going


Car Sea...
---
In perhaps the least surprising news of the day Coachella sold out its presale in a matter of hours like usual. Despite the price increase of Coachella from $399 to $...
---
A...
---
UPDATE: Outside Lands has actually now removed the single day option from the ticket website, so it appears it was put up accidentally. However, it still seems an official announcement will be made soon with the single day passes listed at ...
---
Voodoo Fest has a...
---
Alright Lollapalooza 2017 attendees, it's time to solve some conflicts. Lollapalooza has announced their after party shows for 2017. This is when you can see some of the artists from the Lollapalooza lineup in small venues throughout Chicago aft...
---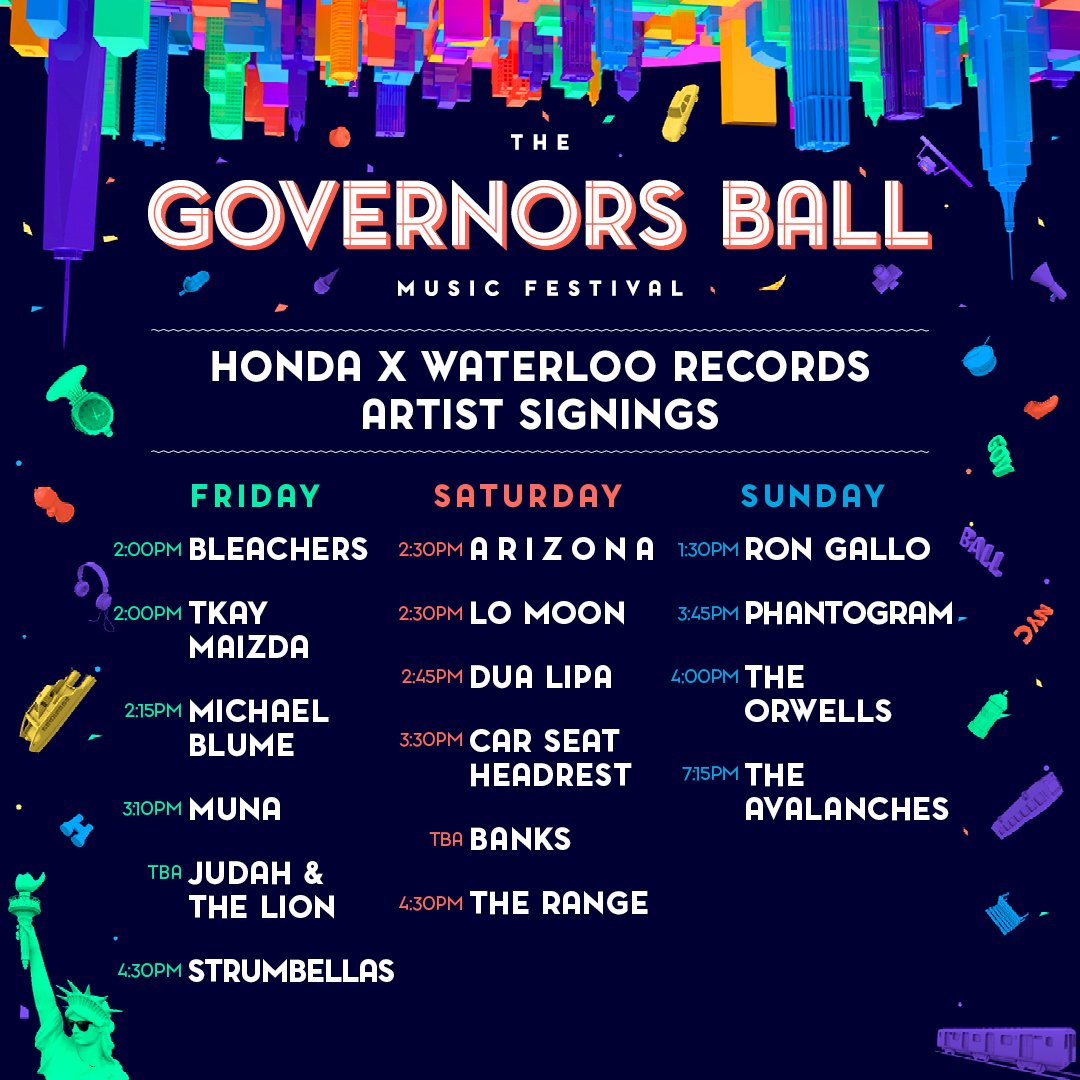 Governors Ball today announced the artists who would be participating in the artists signings, and it's pretty awesome. If you are unaware, Live Nation festivals, such as Governors Ball, typically have an artist signing area where you can get so...
---
They say nothing ever comes free, but at Governors Ball that's just not true. Well technically it's not true, when you forget about the cost of the ticket you purchased a few months ago, but that was month ago, this stuff is free now! ...
---
Bonnaroo has announced it's much anticipated Bonnaroo Superjam participants for 2017, which can be seen in their official tweet below. For Bonnaroo 2017 the Superjam is scheduled in the This Tent from 1:00 a.m. to 2:15 a.m. on Sunday, June 11th (a...
---
Firefly 2017 is now only a couple of weeks away and we have now gotten the official schedule and set times. You can see the day by day schedule for Firefly here. As usual anytime you have as many artists in one festival you are sure to have some t...
---
We are now only a few weeks away from Governors Ball coming back to Randall's Island and our music research is on full blast. If you are looking for some Governors Ball playlists check out our Gov Ball playlist section where we have created some p...
---
Great news has been delievered this afternoon, Live Nation is offering an amazing new deal for festival lovers worldwide with the Festival Passport!
What is the Festival Passport?
The Festival Passport is a single pass that grants you ...
---
Attention Comic Con 2017 attendees! Comic Con has sent out an email stating that you need to update your shipping address by tomorrow, May 18th if you want to ensure you get your Comic Con Badge. Badges are going to begin shipping in June so to ...
---
If you've read our popular article on getting around Gulf Shores, AL during Hangout you know that we are big fans of biking at Hangout. There is no parking, so don't bother trying to drive to the festival - it's not worth the time and effort even ...
---
Governors Ball has released their 2017 set times. Unfortunately they have decided to be pains in the ass and only release it in their app, and you need to go to each individual artist to see when they are playing. I'm sure eventually they will rel...
---
Outside Lands just released their food vendors for OSL 2017 and it looks pretty amazing. If you've never been to Outside Lands before you should know this isn't your standard festival food fare. San Francisco being one of the food capitals of the ...
---
Frank Ocean be damned! Hangout Music Festival just announced the festival has officially sold out for 2017. Hangout will take place this weekend, so the festival has sold out in its final week. Surprisingly all passes are sold out for Hangout - GA...
---
It is not just EDC weekend that draws big crowds to Vegas, but the entire week. EDC Weekend guarantees there will be big name DJ's spinning in clubs all over the strip in the days leading up to and the Monday following EDC, drawing big crowd...
---