Lollapalooza today announced the schedule for the Toyota Music Den, which you can see above. Unaware of what the Toyota Music Den is? It is essentially a small tent, accessible to all Lollapalooza attendees, where Lolla acts play short, but inti...
---
Austin City Limits has announced that their daily lineups will be coming on July 12th, which is next Wednesday! The announcement will come at 8 a.m. central time. Two days later on July 14th you will be able to snag single day tickets for ACL 20...
---
Arroyo Seco Weekend had some of the best food we've had at a festival. We only wish there was more time to enjoy more vendors located throughout the park!
We also loved that Arroyo Seco Weekend had full menus listed in the app for each vend...
---
Want discussion on who we think could headline Hangout 2018? Check it out here.
Hangout Music Festival just ended, and despite losing Frank Ocean it was still a blast. Sadly now that it's over it's time to start planning for Hangout Fest 2018! If...
---
Coachella 2018 Lineup Discussion
Welcome to our Coachella 2018 lineup extravaganza! Here we have a running list of the latest rumors, along with our headliner pr...
---
Whew baby was it hot at Arroyo Seco Weekend on Sunday. One couldn't enjoy a delicious ice cream, because it melted almost as soon as you got it. Despite the heat, it was still a great day of music, albeit a tiring one. Before I get into the top se...
---
Goldenvoice knows how to put on a festival. Arroyo Seco Weekend is their latest iteration and given the big crowds, it seems like it could be Goldenvoice's next big annual festival. In this article we review the music and attendee experience from ...
---
We had a great time at EDC Las Vegas. The production value and attention to detail that goes into making the weekend a unique experience that you can't find anywhere else is evident from the second you walk into the Las Vegas Speedway. I won't cla...
---
Sadly Firefly 2017 has come and gone, and now it's time to turn our attention to Firefly 2018. While it may seem like it is far off, and sadly it is, it is always best to begin planning early! This article will go over everything you need to know ...
---
In general I always recommend down...
---
My #1 reason for attending a festival is always the music, but delicious food and drinks is never far down the list. I love to eat and the option to spend the day outdoors at Arroyo Seco Weekend, eating delicious food and watching talented artists...
---
If you are like me you checked the Vegas weather report for EDC weekend expecting it to be hot, but good God! Last weekend was in the upper 80s and of course a heat wave is coming in for EDC 2017, so everyone be prepared for the heat! Frid...
---
Kaaboo has finished its 2017 lineup today with the annoucne...
---
What a pleasant surprise Arroyo Seco Weekend was when it was first announced back in March. At the time it was announced it would be easy to miss this little gem as it was busy season for festivals with Lollapalooza, Kaaboo, fellow Goldenvoice fes...
---
Late as usual EDC has finally announced their set times ...
---
We are just a couple of weekends away from the first Arroyo ...
---
If you are still trying to fig...
---
Governors Ball is in New York, one of the top food destinations in the United States, so it's not surprising at all that there were A LOT of delicious food options at Governors Ball in 2017. My fiancé, Shawn, and I literally wanted to...
---
Bonnaroo attendees were just treated to a major surprise: Chance The Rapper has been added to the Bonnar...
---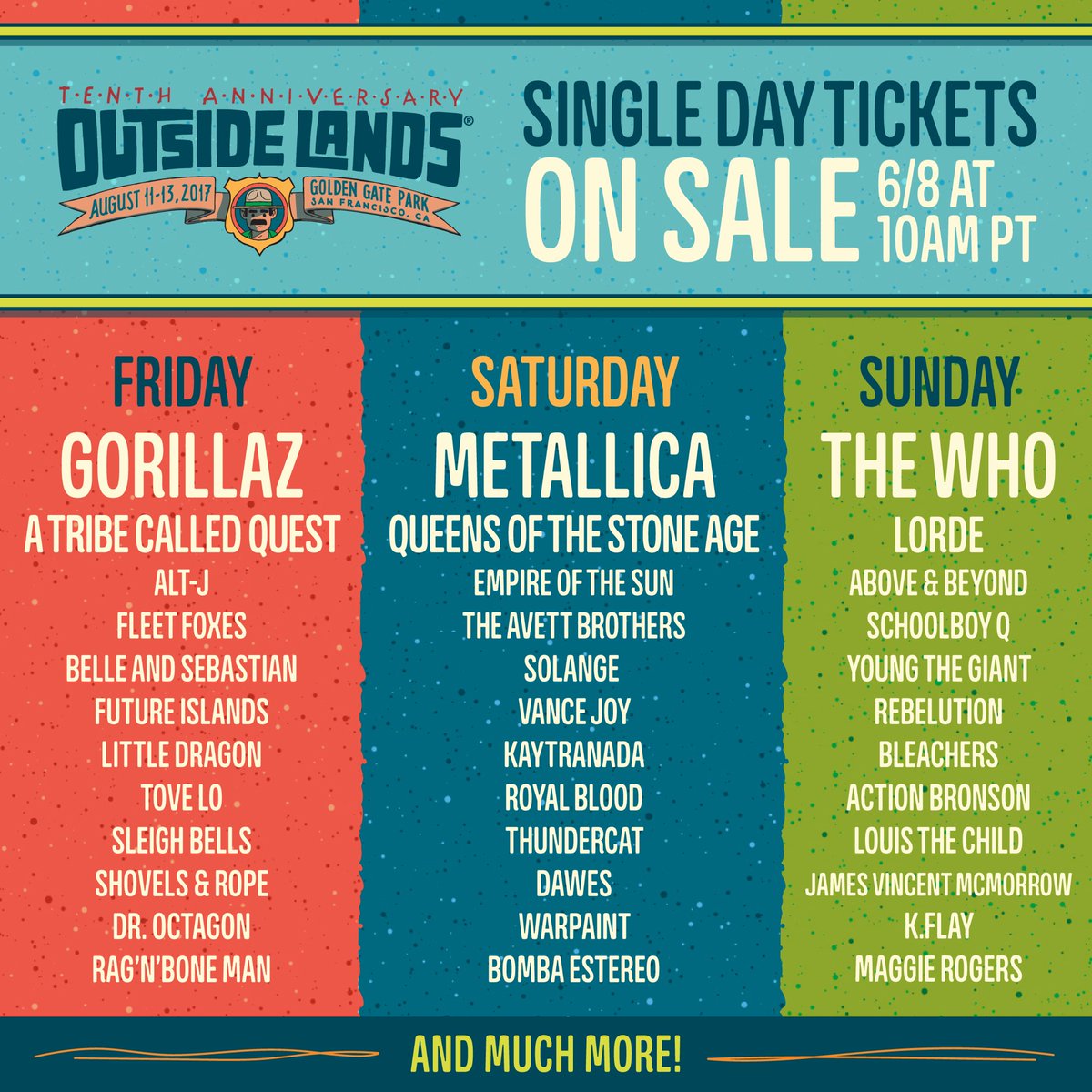 Outside Lands has officially announced their daily schedule and their single day tickets for OSL 10 / OSL 2017. You can see the full breakdown of each day by visitng this link. Along with the announcement of the daily schedule comes the sale of ...
---