---
If you are like us and snagged Coachella 2018 passes back in June on presale, then today is a happy day! Coachella payment plans have concluded as of this weekend and now your debt to Coachella is complete! If you haven't made your payment yet be ...
---
Just in case you aren't aware of the Live Nation Festival Passport here is the introduction info to get you on the same page:
It's essentially a pass to 90+ Live Nation music festivals located across the world
Of the major US...
---
When did it become December? The year 2017 has flown by and now we are approaching festival lineup season once again. Some big ones have actually already come out including Okeechobee Fest, Hangout Festival, Mad Cool and others. If you are a festi...
---
---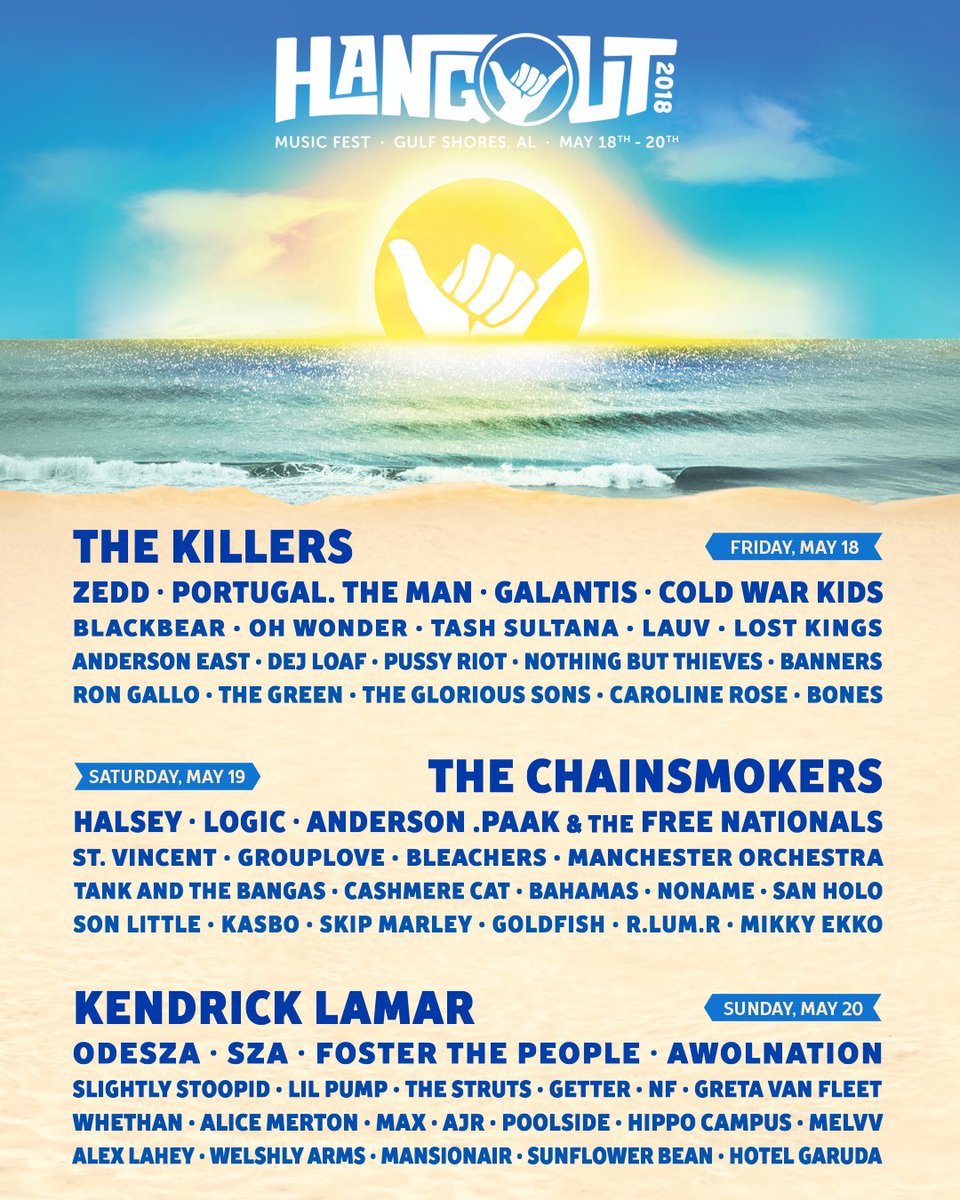 The Hangout 2018 lineup is here, and with it the beginning of festival lineup season. The Hangout lineup is typically the first lineup announced each year, and often gives some insights to who will be on the festival circuit in 2018. Specificall...
---
Beale Street today announced that tickets for Beale Street Music Festival 2018 will ...
---
---
---
EDC today followed their pattern of announcing dates for announcements with...
---
Austin City...
---
Voodoo has a...
---
This has been a really bad week for fans of rock music who were hoping to catch some established bands at Coachella. Earlier this week iHeartRadio announced ALTer EGO, a show in Los Angeles featuring some big names in rock like Cage The Elephant, ...
---
It's crazy that next...
---
Now that we are well into October it means the festival season for 2017 is winding down. It also means that lineup season is almost upon us. Obviously January is the big month with Coachella, Bonnaroo, Governors Ball, and a lot more linesup. Howev...
---
Austin City Limits W1 has come and gone and so has the 2017 festival season with it. Yes, there is still Voodoo, Snowglobe and some others, but for the most part Austin City Limits is the last of the major music festivals in 2017. Here's what we t...
---
Austin City Limits has come and gone, and now it's time to start planning for ACL 2018. This post will go over everything you need to plan for Austin City Limits 2018: when the lineup comes out, how the presale works, when you should book a hotel ...
---
Now that the calendar has turned to October we are only three months away from the Coachella 2018 Lineup and tickets going on sale. If you weren't lucky enough to get tickets during the Coachella presale in June this is your last chance ...
---
If you couldn't make it to ACL this year you can still check out some ...
---
Yesterday Run The Jewels, a festival favo...
---