Coachella 2018 is getting close and now we have the Do Lab lineup! You can see who will be playing Coachella Weekend One and who will be pl...
---
Kaaboo has released...
---
If you are even mildly interested in Lollapalooza then you know tickets went on sale this morning. Surprisingly tickets are not sold out yet when they typically do sell out within an hour or two. Anyways, Lollapalooza has been leaking artists al...
---
Just a warning to anyone still co...
---
Pitchfork has announced it's 2018 lineup, which means we know a lot of artists who won't be at Lolla 2018. Due to radius clauses, which state artists can't play Lollapalooza if they play another show in or near Chicago, all of the artists who ar...
---
---
As usual some artists have begun prematurely leaking their festival dates before the festival actually releases their lineup. BROCKHAMPTON made a mistake by posting on their websites tour dates section that it includes a stop in Chicago for Loll...
---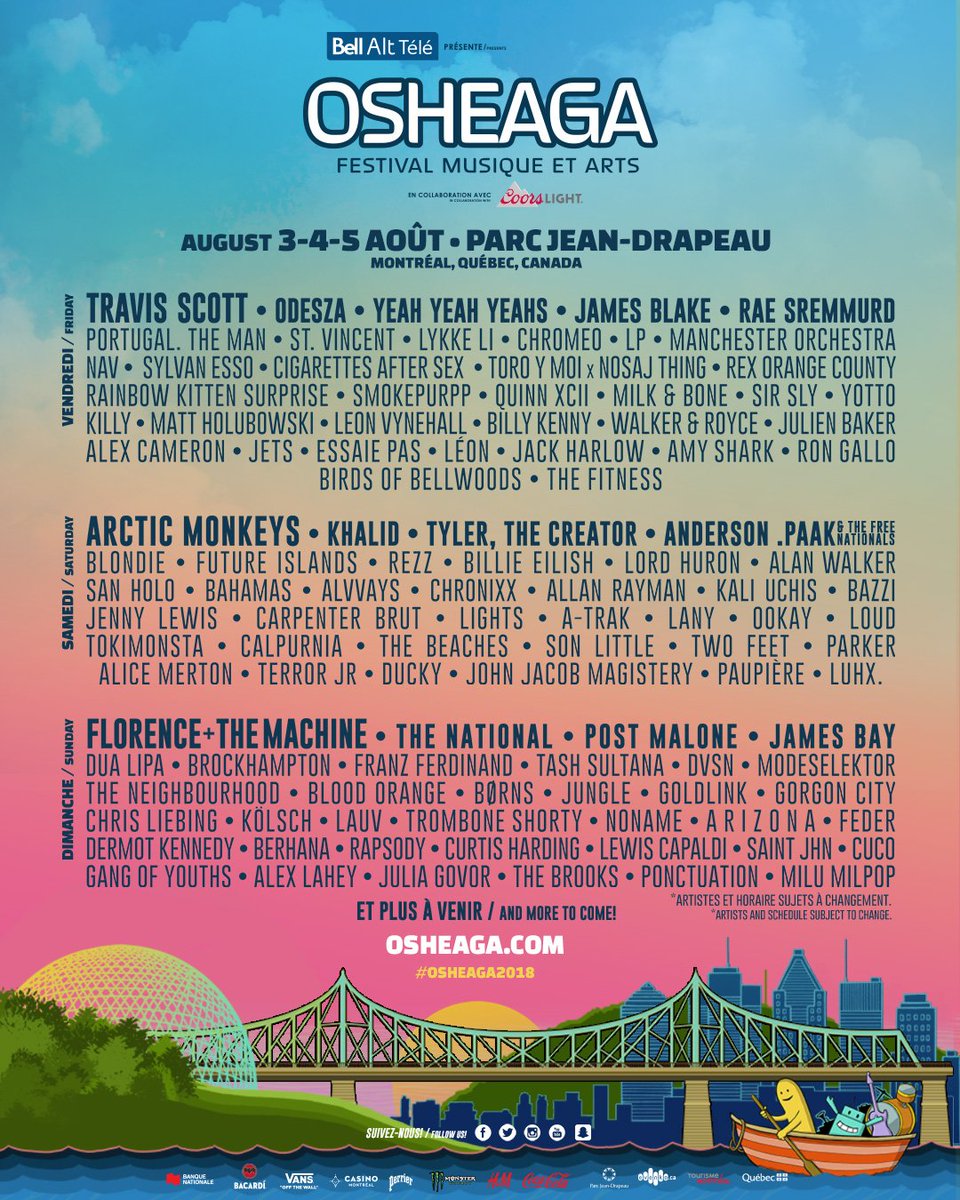 Osheaga has finally released it's awesome lineup for 2018. Headlining in 2018 will be Travis Scott, Arctic Monkeys and Flore + The Machine. Aside from two great headliners the festival sports an impressive list of subheadliners - Odesza, Yeah Ye...
---
Shaky Knees late night shows are here! If you don't know anything about Shaky Knees late shows here are the basics:
These are shows by artists on the Shaky Knees lineup that take place outside the festival

They are not included wit...
---
Osheaga has began to confirm artists for the 2018 lineup. So far here is who is confirmed to be playing Osheaga 2018:
Odesza
Portugal. The Man
Sir Sly
Alex Cameron
Smokepurpp
Sylvan Esso
Rex Orange County
Manchester Orchestra
Milk ...
---
Arroyo Seco Weekend is official back with its 2018 lineup! Like many festivals these day, Arroyo Seco will boast multiple headliners for each day. The festival again will be a weekend affair, taking place only on Saturday and Sunday. On Saturday...
---
Coachella 2018 wristbands have been shipped and if you were lucky enough to have snagged yours you may have noticed this little gem in your Coachella pamphlet: the Antarctic Dome will be back! If you didn't check it out last year you missed out ...
---
The annual Coachella Day Club for 2018 has been announced. This is the annual pool party that takes place at the Hilton in Downtown Palm Springs (400 E Tahquitz Canyon Way, Palm Springs, CA 92262). If you've never been to this it's basically the...
---
ARTICLE SUMMARY
Coachella features tons of events outside of the music festival itself
Most of the parties are day/pool parties at various resorts throughout the area (most though are in Palm Springs)
Neon Carnival is the probably the most fa...
---
Life Is Beautiful's lineup for 2018 will be upon us soon, so let's have some fun speculating who could be there. Many summer tours have been announced so we can see who is busy during Life Is Beautiful's 2018 dates as well as who mysteriously has ...
---
Bon Iver has been pre...
---
If you are keeping track at home Ultra has finally sold out its general admission passes. Typically what can occur as early as early January took until late February this year. Perhaps this is a lack of excitement for Ultra's lineup, despite it ...
---
Wow what a bargain for as low as $125! Beale Street...
---
Coachella 2019 may seem like a far ways away (and it is) but I assure you Coachella is something you want to plan for as early as possible. Here we are going to go over everything you need to...
---
Coachella 2018 wristbands have begun shipping! Today we got our notification that our Coachella 2018 wtistbands are officially out the door and on the way. If you haven't received yours yet do not fret - Coachella wristbands will continue to shi...
---