Yes, Coachella 2017 just ended. Give me a moment to be sad and reflect on how much fun it was.....
OK I'm done. Despite the fact that Coachella just wrapped up it's never too early to begin planning for Coachella 2018. First, if you are planning ...
---
Austin City Limits is only a couple days away from their lineup release and the speculation for the headliners couldn't be higher. One of the common rumors for Austin City Limits 2017 was that Sir Paul McCartney would be playing ACL for the first ...
---
So I like to speculate about lineups as much as anyone, and with the Austin City Limits lineup looming this Thursday I am knee deep in conspiracy theories. This one focuses on a band of my youth: Interpol. Interpol last played Austin City Limits i...
---
Have you seen these popping up at festivals, events and outings?
Perhaps, I haven't been paying enough attention, but I just started noticing these awesome lounge chairs (or should I call them hammocks?) popping up at festivals and they look awes...
---
Bonnaroo updated their daily lineups today and announced that we will get the full set times next week. This is in line with what Bonnaroo typically does, with set times coming out about a month before Bonnaroo. As far as I can tell there are no m...
---
Shaky Knees has released their map for 2017, which can be seen above. It looks charmingly small after coming back from Coachella. Probably my favorite feature of Shaky Knees is the fact that there are six bars and one water station throughout th...
---
UPDATE: 4/29/2017 (Weekend Two Reviews): This post will include a complete review of our Coachella 2017 quest for delicious Coachella food during Weekend One and Two. All of our reviews are listed below and include ratings and pictu...
---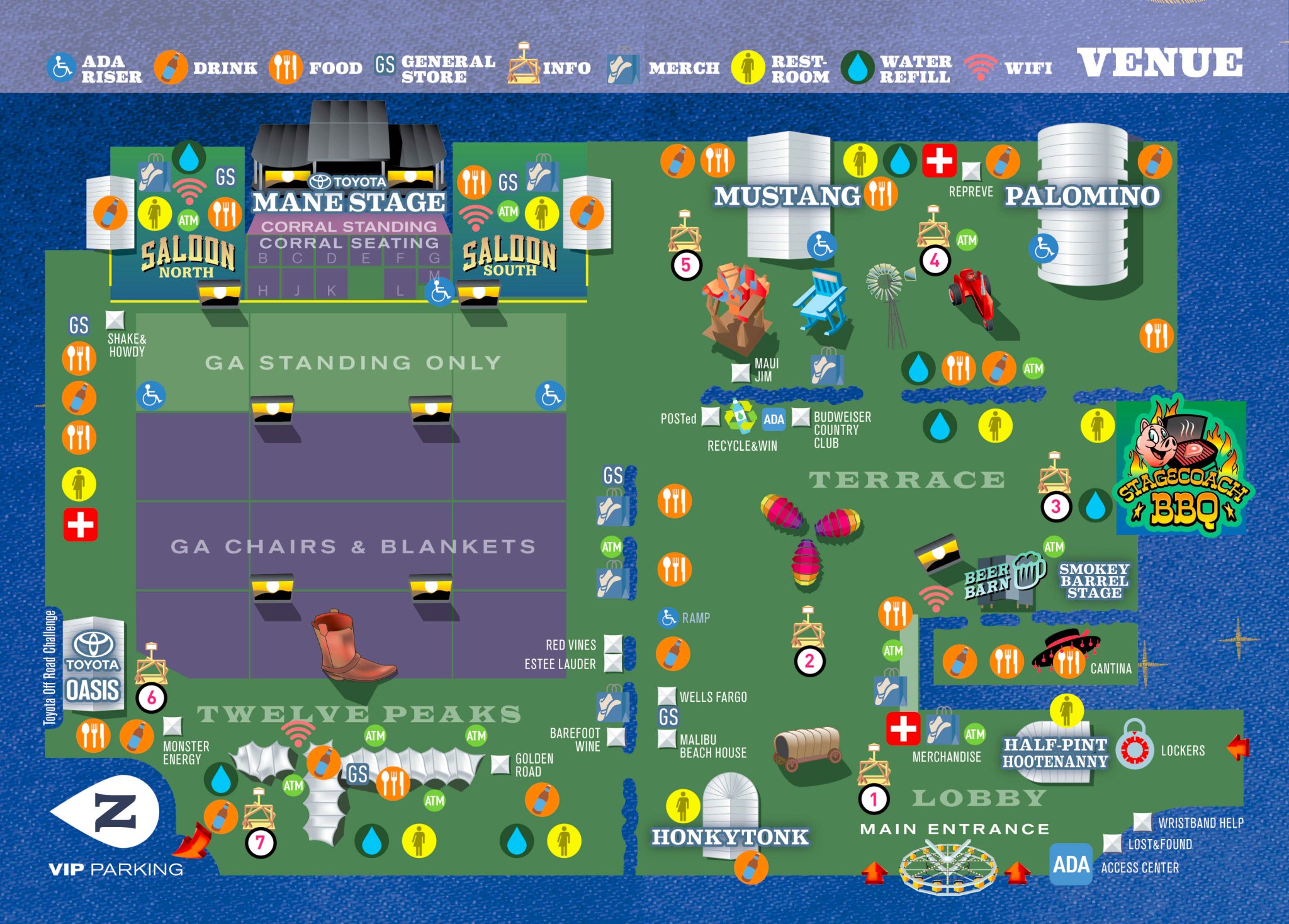 Crazy that Stagecoach 2017 is already here! Today Stagecoach released the official map for the festival. They've kept some of the expansion and improvement aspects from Coachella. Namely, there are more bathrooms and water stations throughout th...
---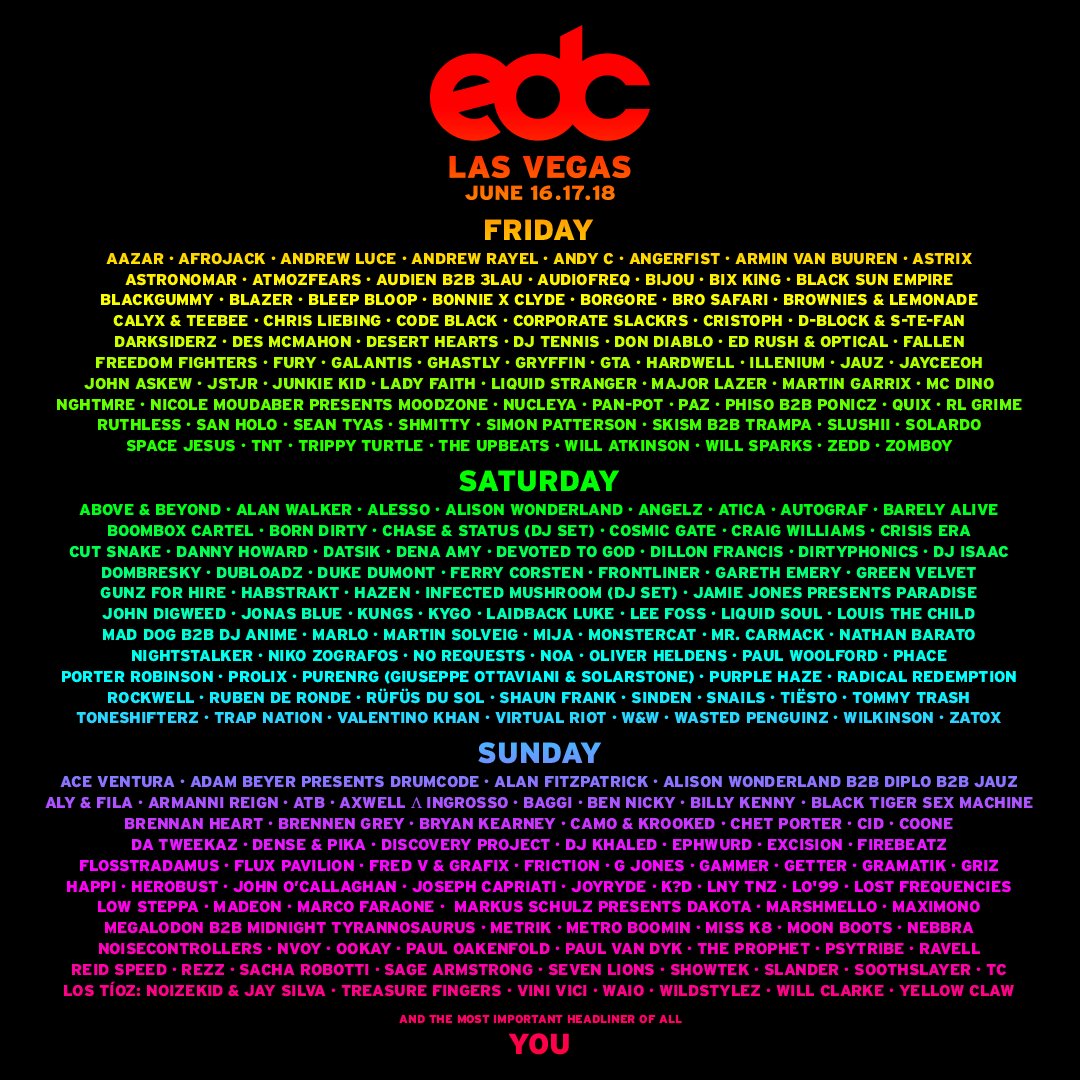 EDC has officially announced their full 2017 lineup! EDC technically released a mixtape last night with all of the artists but now we have the glorious poster everyone has been looking for and the lineup is absolutely stacked with huge acts and ...
---
If you missed out on the Life Is Beautiful presale last week, today is your chance to grab Life Is Beautiful 2017 passes. I've put together a quick primer for you if you are looking to purchase LIB passes today. The festival typically doesn't sell...
---
Going to Governors Ball? Time to figure out what to eat: today Governors Ball released all of the food vendors that will be at Governors Ball 2017. I suggest you do a little research and check out the food at Governors Ball. Of festivals across th...
---
Ultra Miami may of just happened but they are already trying to take your money again. Ultra announced today that early bird passes for Ultra 2018 will first go on sale on May 2nd, 2017. If you haven't even looked at when Ultra 2018 is yet I would...
---
First off, I apologize to our Stagecoach audience. I have been busy frolicking around Coachella for back to back weekends and have been slacking on Stagecoach news. Last week Stagecoach released their set times for Stagecoach 2017. You can see all...
---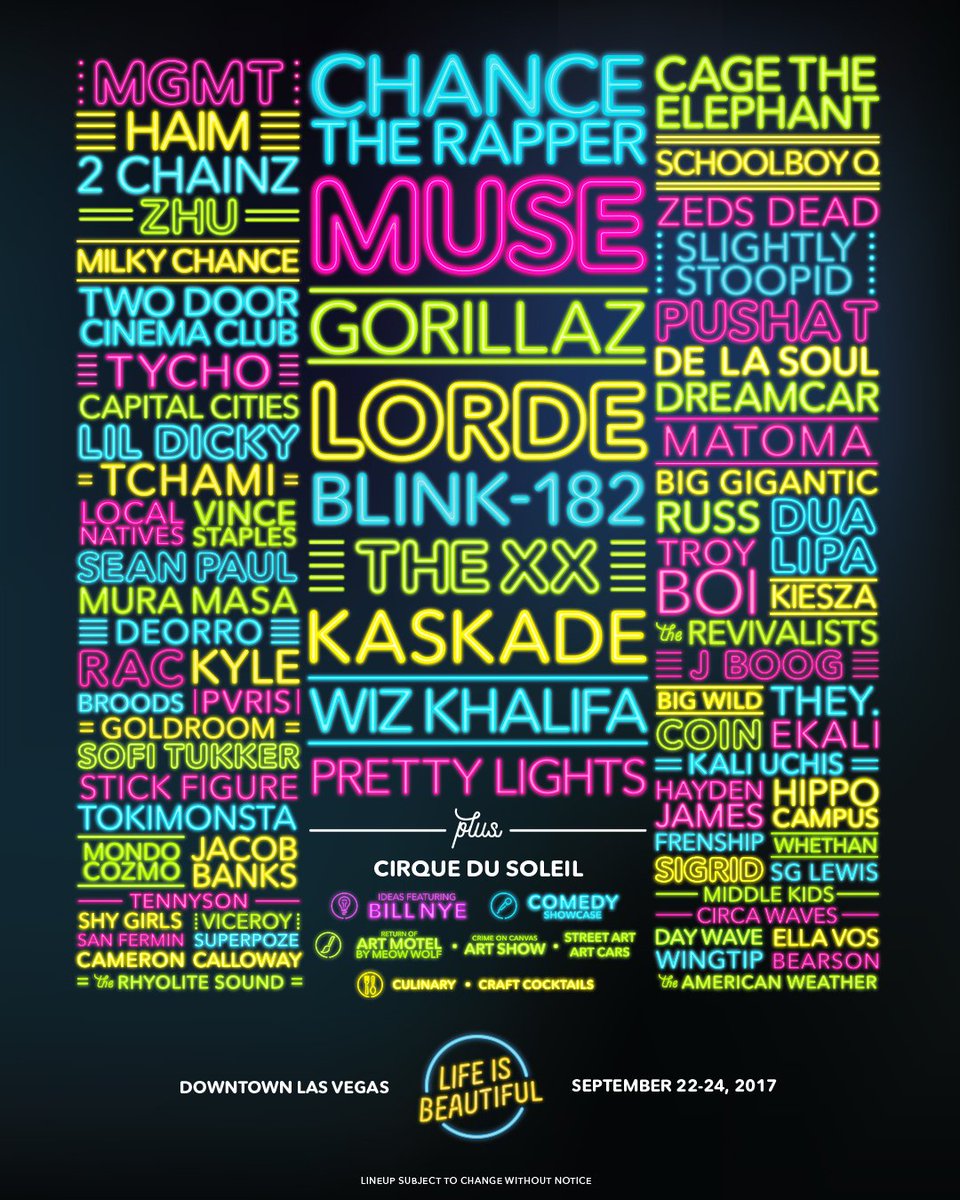 Life Is Beautiful 2017 released its lineup this morning at 10 a.m. and it is a fucking doozy. Personally, I was a little letdown by Life Is Beautiful's lineup last year but they have definitely made up for it with the 2017 lineup. As I wrote yes...
---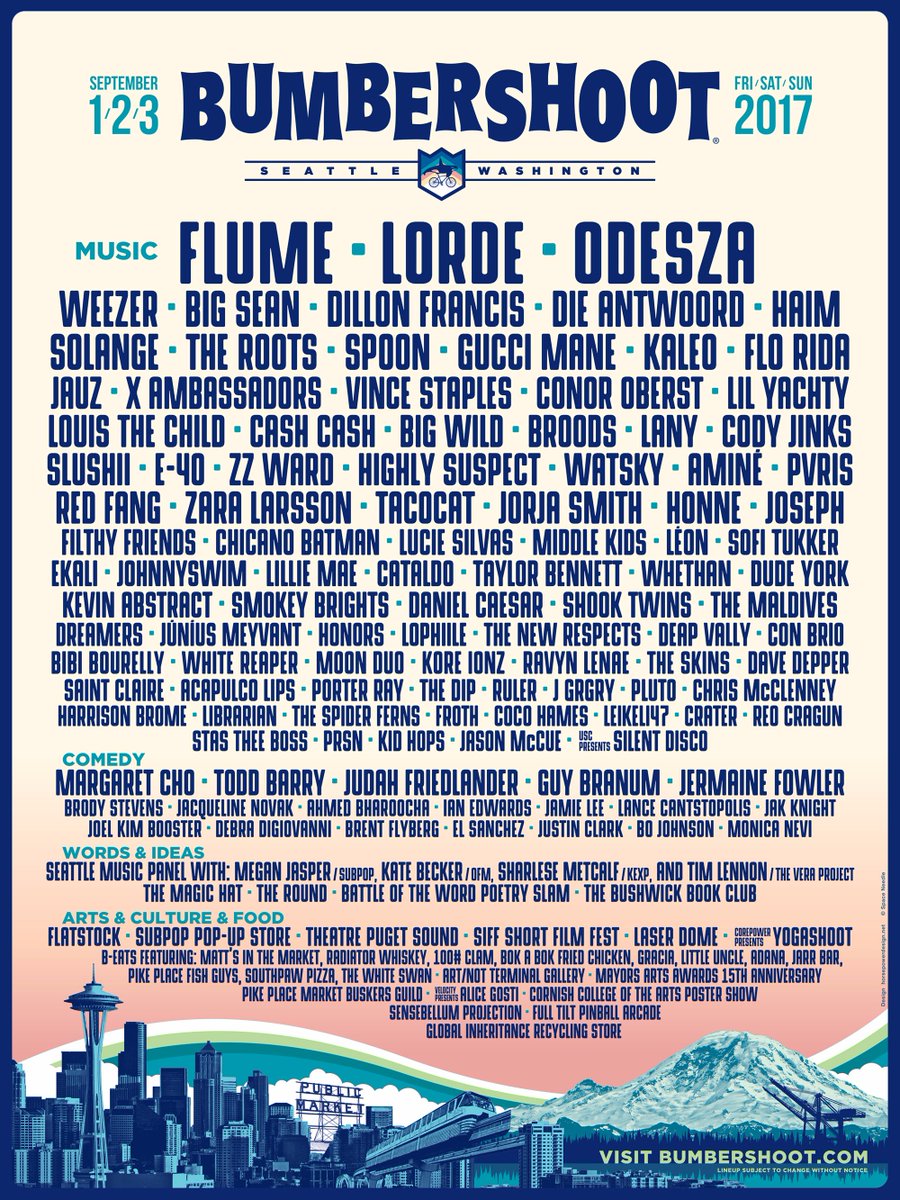 Bumbershoot today announced their 2017 lineup. The headliners will be Flume, Lorde and Odesza. Other notable artists for the festival include Big Sean, HAIM, Solange, and Dillon Francis. Passes for Bumbershoot will go on mass sale this Friday at...
---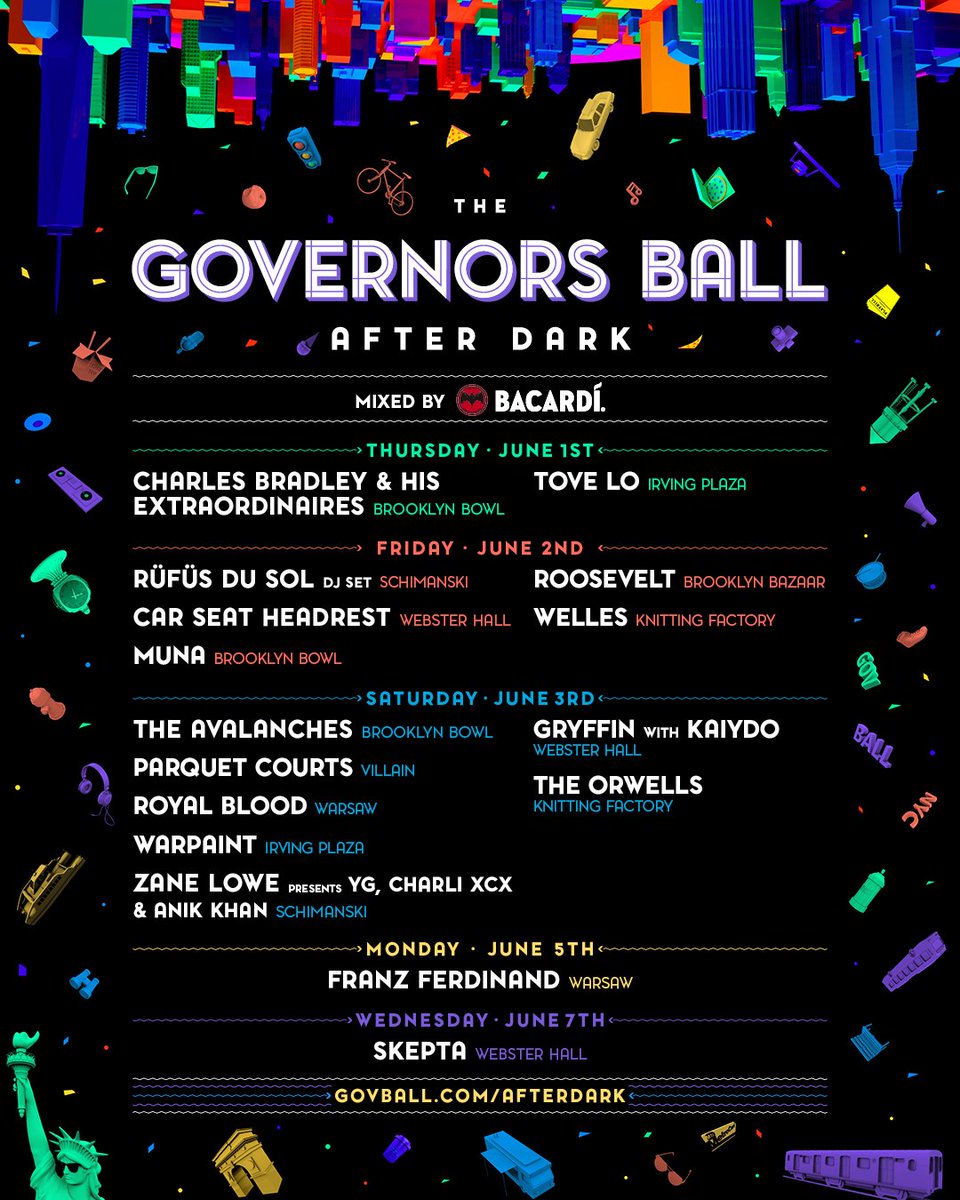 Governors Ball 2017 is getting closer, and today they announced what you can do at night once Governors Ball ends. Today Governors Ball has announced their "After Dark" shows, which are shows that go on throughout New York City after Governors B...
---
UPDATE: The Full Life Is Beautiful Lineup has been released. Get all the details here.
Life Is Beautiful releases their lineup tomorrow morning, but today they leaked their top six on the poster. We already knew for certain that Gorillaz w...
---
Outside Lands 2017 has finally sold out some passes, just surprisingly its not the general admission passes. Not sure I have ever seen this with a music festival, but Outside Lands 2017 has sold out their VIP passes before their general admissio...
---
Just in time to cure my...
---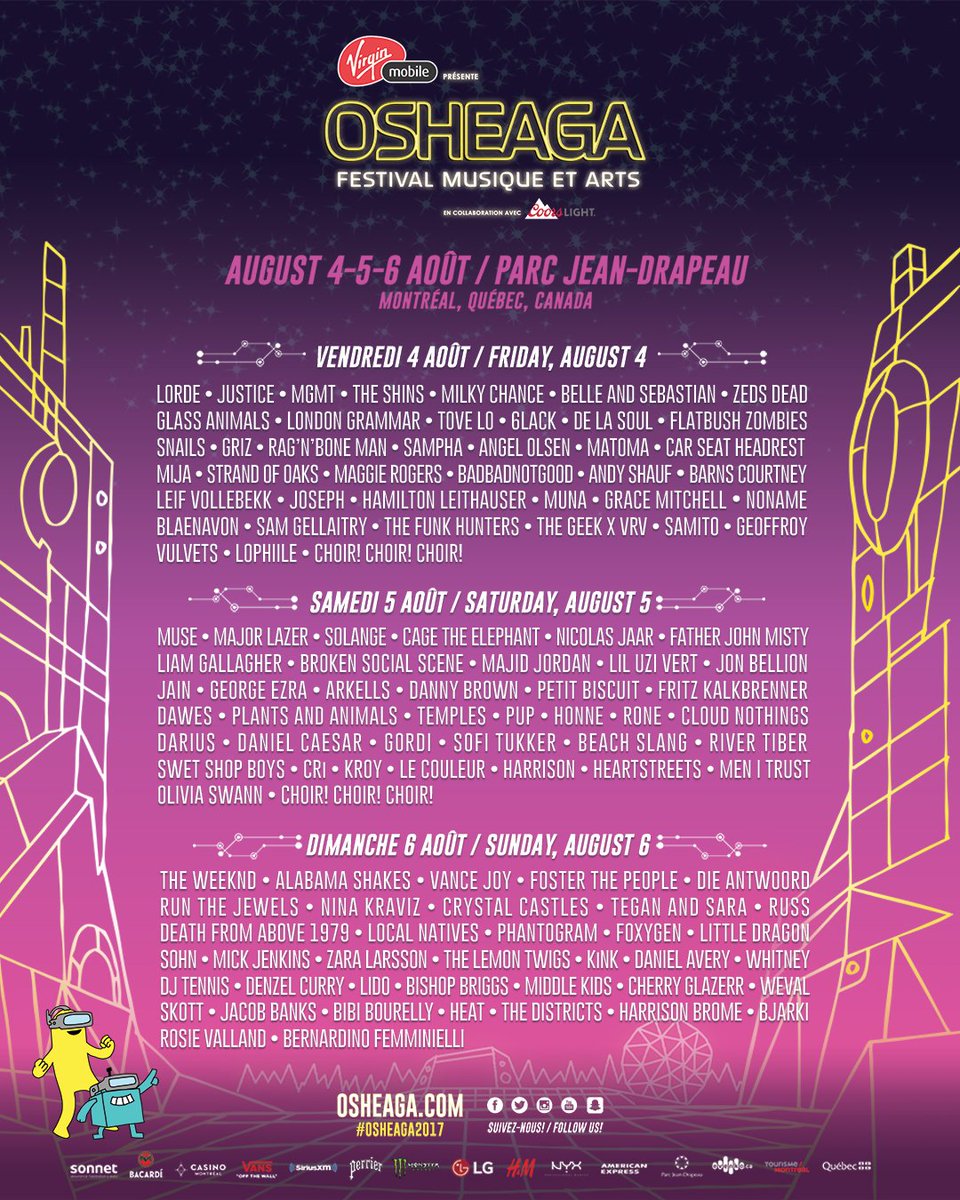 Today Osheaga released their daily lineups for the upcoming Osheaga 2017. You can see the full lineup breakdown on the poster above for this upcoming Osheaga. The lineup is fairly strong each day but I would personally say Sunday is the weak day...
---