More a friendly reminder for EDC festivalgoers than any breaking news, but EDC has officially annoucned wristbands are beginning to ship shortly. You need to update your shipping address for your EDC wristband quickly to make sure it goes to the c...
---
If you haven't snagged for EDC shuttle pass yet I highly suggest you get on it. EDC announced that the popular stop at the Linq has sold out for EDC 2017. If you are looking for information on the EDC shuttle we have a full article on EDC shuttl...
---
Looking to go to Beale Street Music Festival in 2018? Let's get you ready with all the information you need. This article is to go over all the Beale Street Music Festival 2018 info you need. We will go over when you can expect the 2018 Beale Stre...
---
Firefly 2017 is almost here as we are just over a month away. Announcements from Firefly are slowly trickling out and today they announced a new roaming stage (see the official Firefly Instagram announcement below). Essentially it sounds like Fire...
---
Finally Hangout Festival has released their schedule for the 2017 edition of the Gulf Shores festival. You can see the schedules for all the days below. As you are probably aware of at this point we were waiting for Hangout to announce who would b...
---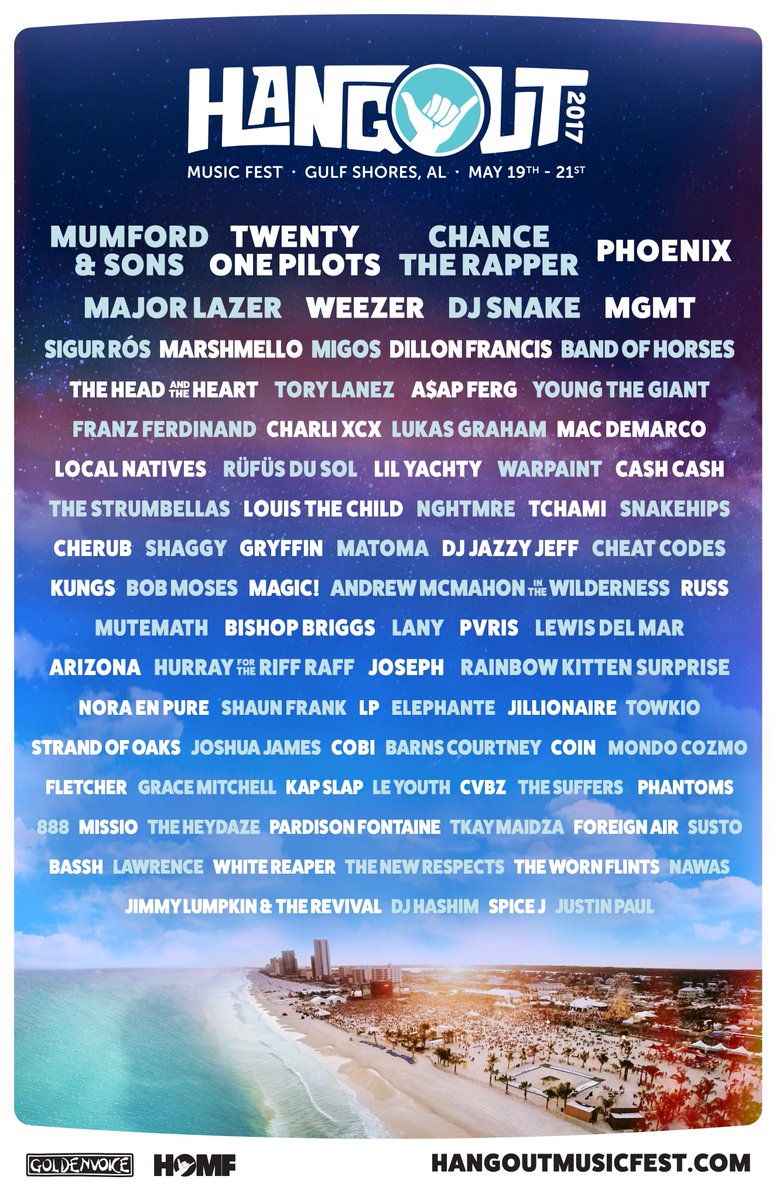 Well, we knew it was coming and Hangout Festival finally announced today who it would be. Phoenix will replace Frank Ocean as a headliner at Hangout Festival 2017, which will occur next weekend in Gulf Shores, AL. We found out last week that Fra...
---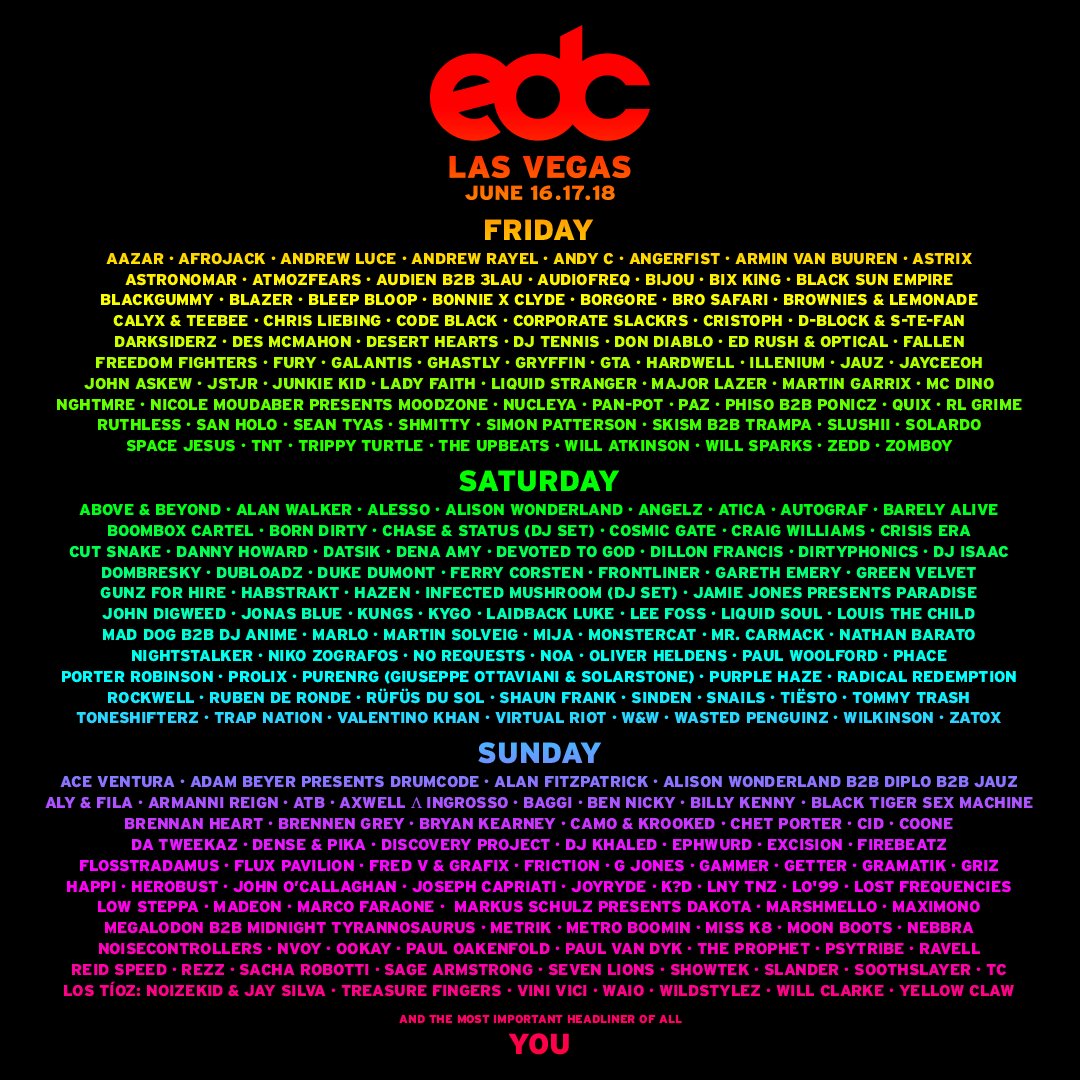 EDC has begun shipping wristbands for EDC 2017! We are now just over a month away from EDC and people on social media have started reporting they have gotten notifications from UPS that their package labels have been created and/or their package...
---
Lollapalooza released it's full s...
---
If you are like me, you are preparing for Austin City Limits conflict hell in 2017. As many know by now, Austin City Limits is quite top heavy with five legitimate headliners: Gorillaz, The Killers, Jay-Z, Red Hot Chili Peppers and Chance The Ra...
---
I live in the bottom lines of music festivals. While most people enjoy going to the festivals to see the headliners I particularly enjoy going to the festival early and checking out the bands on the lower lines. There's some really great talent ...
---
The 2017 edition of the Kentucky Derby just finished but it's never too early to begin planning for Kentucky Derby 2018! This article is going to go over all the basic information you need to know in order to plan to be at the Kentucky Derby next ...
---
UPDATE: Phoenix has replaced Frank Ocean. Read all about it here.
---
Frank Ocean was a huge get for Hangout Music Festival. Hangout is by no means a small festival, but it also isn't Coachella or Lollapalooza. The festival boasted a pretty impress...
---
UPDATE: Phoenix has replaced Frank Ocean. Read all about it here.
---
Frank Ocean today announced he would officially not be performing at Sasquatch! Music Festival, which starts on May 26th. According to Consequence of Sound th...
---
UPDATE: Our full ACL 2017 review can be seen here!
As everyone knows by now, Austin City Limits has released their 2017 lineup with five headliners! Jay-Z, RHCP, Gorillaz, The Killers and Chance will headline ACL 2017, which is inarguably ...
---
Austin City Limits, you sneaky devil you! Austin City Limits just announced that Jay-Z will also be headlining ACL 2017 giving the festival perhaps the best set of headliners of any US festival in 2017. Jay-Z will join Red Hot Chili Peppers, Goril...
---
We're still a few months away from Lollapalooza 2017, but today the festival posted on Instagram that the schedule will be released on May 9th, 2017. Lollapalooza will likely be announcing all of the set times, giving you plenty of time to figure ...
---
Bonnaroo has released it's much anticipated schedule for the 2017 edition of the festival today. Bonnaroo 2017 is headlined by Red Hot Chili Peppers, The Weeknd, U2, and Chance the Rapper, and each will close out the What Stage each night. You c...
---
Major Update: Jay-Z Added as 5th Headliner - 5/4/2017 at 2:45 p.m.
Austin City Limits had a major surprise up their sleeve and has announced Jay-Z as an additional headliner! ACL 2017 has one of the strongest top lines I have ever seen at a fes...
---
UPDATE: ACL LINE 2017 HAS BEEN RELEASED. CLICK HERE FOR DETAILS
Bonus Hint Released
After the inital lineup was released, Austin City Limits surprised everyone and released an additional hint followed by an updated lineup with Jay Z!
We were ...
---
Life Is Beautiful 2017 has just announced their daily lineups for the festivals, as well as the single day ticket sales. Single day tickets will go on sale for Life Is Beautiful 2017 this Thursday (5/4) at 10 a.m. PST. Based on how quickly the thr...
---